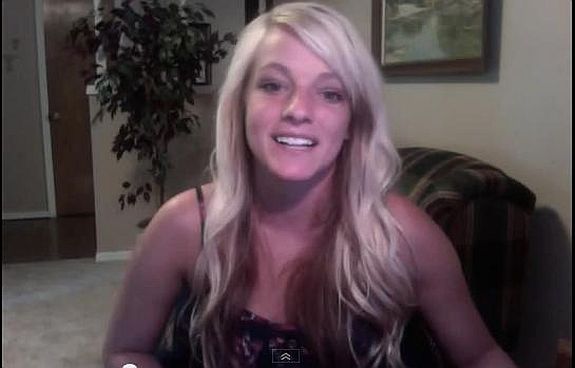 It's been nearly six months since Teen Mom 3 was cancelled by MTV. The show, which featured Briana DeJesus, Mackenzie Douthit, Katie Yeager and Alex Sekella, failed to get the ratings of the franchise's first two shows, Teen Mom and Teen Mom 2, and was cut after only one season.
Since then, we have not heard much about the 'Teen Mom 3' girls. However, Mackenzie recently posted a video in which she gave her fans an update on her life today. When we last saw her and her (now husband) Josh McKee, they were bickering, breaking up and not doing a very good job of parenting their son.
Mackenzie said that, nearly two years after that footage was filmed, things are much better.
"Things have changed a lot. We both grew up. It took Josh a little longer to grow up but…Since the show last aired—I think we were fighting when it ended—we got married, had another baby."
The couple, who had a small, private wedding ceremony in May of 2013 before having a large wedding celebration three months later, are celebrating their one-year anniversary today!
"We are so excited to celebrate it," Mackenzie said.
Of course, things haven't been perfect for Mackenzie and Josh. Luckily, however, Mackenzie says that they now try to handle their issues like adults.
"We do still get in arguments but I think we handle them better," she said. "We live together and we parent better than probably did when you last saw us so things are good. We aren't perfect but we are in love."
Mackenzie also addressed the fact that many fans have expressed their dislike of the names Mackenzie chose for her children. In addition to four-month-old Jaxie, Mackenzie and Josh are also the parents of son Gannon, who will turn three in September.
"I like names that are different and unique," Mackenzie said. "Some people like my kids' names, some people do not like them at all. But I love them. Josh chose Gannon and I came up with Jaxie. I think they sound country and Southern and different. I haven't heard of a Jaxie yet. I love my kids' names."
Mackenzie, who lives with Type I diabetes, addressed the current state of her health. On her episode of 16 and Pregnant, as well as during 'Teen Mom 3', viewers watched as Mackenzie's blood sugars sometimes spiraled out of control, and put her in serious danger.
"I used to not take care of myself a long time ago," she said. "Things will start going bad. You'll start losing your eyesight…I decided that I want to live long and I want to see my grandkids one day so I learned to take care of myself. Since I have taken care of myself I feel so much better! I do have my off days where my body will change or something is out of whack. Before I get sick, my blood sugars mess up. I learned to manage it so much better. I look at sweets as poison to my body."
Since 'Teen Mom 3' was cancelled back in December, Mackenzie and Josh have been keeping busy. Now that they are not being followed by cameras, they've gotten "real" jobs.
"Josh works Monday through Friday doing drywall and working on houses and I have my Etsy shop," Mackenzie said. "I also do some cheer coaching on the side. One day I want to do a lot of cheer coaching and be a cheer choreographer. That's my dream job. I also have my cosmetologist license so I do hair and nails on the side."
For those of you wondering, Josh is still "rodeo-ing." While we do not know what his concussion count is currently at, Mackenzie says he still loves to get thrown of broncos on the regular.
"Josh does still rodeo on the weekends," she said. "And yes, I do still cheer, stunt and tumble. It's what we both love. We put our kids first but we still do what we love…I think it's important to still do what you love, along with being a mom."
The Ashley can report that, at the time, no new episodes of 'Teen Mom 3' are planned, nor is any type of reunion or "Where Are They Now?" special in the works.

(Photo: YouTube)