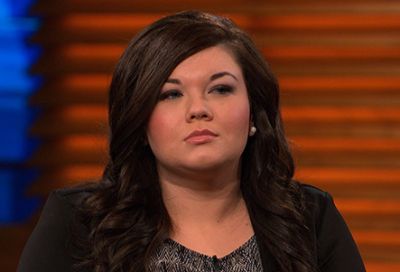 Last week, it was announced that Teen Mom star Amber Portwood would be releasing an autobiographical book that tells the story of her descent into the drug abuse and how her addiction and anger issues eventually landed her behind bars in an Indiana State Prison for 17 months. Now, The Ashley can bring you some exclusive details about Amber's upcoming book, which will be called Never Too Late.
The book, which is being put out by Post Hill Press (the same publishing company that produced Kail Lowry's book, Pride Over Pity) and will be released on August 26. An excerpt of the book obtained by The Ashley gives us a taste of the exciting story the book will tell.
"Addiction. Mental illness. Death. Divorce. Betrayal. Violence. Suicide attempts. Felony charges. Rehab. Drug overdoses. Jail.Oh yeah, and there's some sex and rock 'n' roll in there, too. But I'm going to tell you how it all happened. Maybe when I'm done you'll understand some of the weirder parts of the story, like the reason I walked away from my daughter to voluntarily serve time in prison."
The book's publisher provided more insight into Never Too Late.
"Never Too Late tells the real story of how the young mother learned to deal with the demons that nearly destroyed her, leaving readers with a powerful message that no matter how far down a person might fall, it's never too late to get back up and change the future."
In another excerpt, Amber discusses how her daughter, Leah, who was born during Amber's episode of 16 and Pregnant, has motivated her to get and stay sober.
"What makes me completely fulfilled is the love I have with Leah and the emotions I feel when I'm with her. She's really holding onto me, and I'm holding onto her too. It makes me feel like everything is worth something. Leah reminds me every day not just of my responsibilities as a parent and a person, but of the joy I'm capable of feeling. For the first time in my life, I see the point in everything. I finally believe I can be happy."
Amber co-wrote the book with author Beth Roeser.
Last night, Amber revealed that, although she had signed a book deal long ago, she never felt comfortable using it to write her story.
My book is to help others I've had a book deal for years and haven't used it because I felt there was no purpose..but now there is..love♡

— Amber Portwood (@AmberLPortwood) July 7, 2014
The Ashley will be posting additional information about Amber's book, so stay tuned!