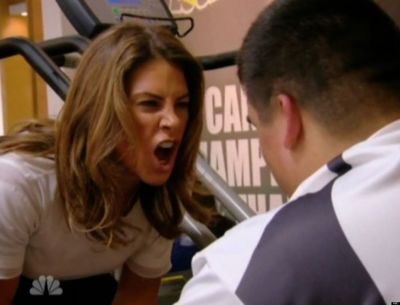 Jillian Michaels says she isn't the mean, drill-sergeant-like person that fans of The Biggest Loser think she is. In a new interview with People, Jillian reveals that she was tired of being edited to look like a bully, and that contributed to her leaving the show after last season.
"Millions of people have this warped negative perception of me," she told the magazine. "In the beginning of the show it was tough love. You saw the tough, and you saw the love. [But in recent episodes] you saw none of the relationships, none of the bonds that I build with my clients."
'Biggest Loser' fans were shocked last month when it was revealed that Jillian, who was one of original trainers when the show began in 2004, would not return for the upcoming sixteenth season. The show's other trainers, Bob Harper and Dolvett Quince will be back, and two new trainers, Jessie Pavelka and Jennifer Widerstrom, will join them in helping to train contestants.
While Jillian admitted to having "fundamental differences" with the show's producers for a while, she made it clear that she wasn't leaving because she thought she was too good for the show.
"I don't want fans to think I feel like I'm too big for the show or that I'm seeking greener pastures," she told the magazine. "I'm so grateful to the show and so sad to leave."
While she may miss being on the show, she certainly will not miss the backlash that some of the "editing issues" has garnered her. Last season, she was accused of cheating after it was discovered that she gave her team caffeine pills. Jillian told People that after the cheating episode aired, her four-year-old daughter Lukensia was taunted by a classmate because of it.
"I know who your mom is – she's a cheater," Jillian said the classmate told her daughter. "I saw it on TV."
That incident led to Jillian leaving the show, she said.
"I had to take a hard look at my work. I came to the conclusion that moving forward, I need to be able to have an impact on the outcome of what I do," she said.
(Photo: NBC)