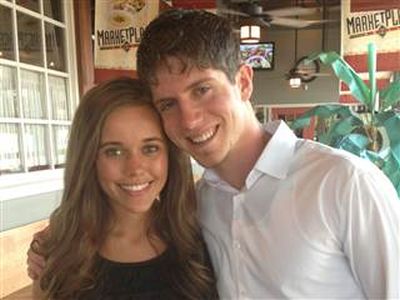 Get ready for another Duggar wedding! Jessa Duggar, the fifth child of Jim Bob and Michelle, is officially engaged to be married! The reality starlet's boyfriend, Ben Seewald, popped the question to Jessa on Thursday night, according to E! News. It's not exactly a shocker, since Ben and Jessa have been "courting" for 11 months.
Jessa's older sister Jill recently married her boyfriend, Derick, and has been the focus of the most-recent episodes of the reality show.
Um…can we do a welfare check on the family's oldest daughter, Jana? Seriously. Watching her younger sisters get engaged and then married, while she has yet to be courted (allegedly) can't be easy. She's a pretty girl too; come on fellas!
Anyway, Jessa and Ben released a statement after announcing their engagement.
"We are so blessed to be engaged! God has written an amazing story through our courtship, and another chapter has just begun!" they said in the statement. "We are thrilled to see what the future holds — especially the wedding bells!"
Jessa, who is 21 and Ben, who is 19, have said that they are constantly getting pestered to get married.
"People always ask us when we are getting married. We don't feel pressure to get married," Ben said. "If there's any pressure, it's a good kind of pressure."
Of course, the couple plans to squat out as many kids as humanly possibly once they're married, but for now, they are just excited to finally be able to hold hands! They will have their first kiss on their wedding day, just like Jill and Derick did.
In March, Jessa talked to Cosmo magazine about waiting for her first kiss.
"I can't say I haven't been [curious], but it's the anticipation, the suspense!" she said. "It's like Christmas morning, you know? Open this special package so it'll be fun!"
I smell another TLC Duggar wedding special, y'all!
Congrats to Jessa and Ben!