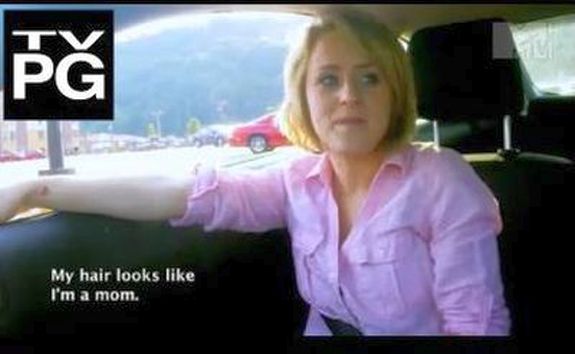 Welcome to another episode of Teen Mom 2! The Ashley is a bit behind in watching these episodes (obviously), but from what she has seen on The Internet, there should be enough bad parenting in this episode to make Dr. Drew throw his hands up in the hair and yell, "EFF this!" and walk away from doing those reunion specials.
Anyway, on with the show!
We start things off with Kail, who is Isaac-less because he's at Jo's for the weekend. (They do a quick shot of Jo and Isaac eating dinner to prove that Jo is still alive. We haven't seen him for a few episodes. )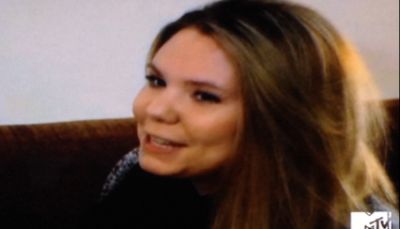 Anyway, Kail and Javi head out on a date to celebrate Javi's homecoming. They go to a fancy restaurant (i.e. no sawdust on the floor and no entrees that have a name starting with "Rootin' Tootin.'")
Immediately the waiter brings over the wine list, which just seems wrong on a show called 'Teen Mom.' However, it's then that we realize that these girls are no longer 16. Hell, they're not even teenagers anymore. They can drink wine and not have it make it onto the front page of TMZ the next morning. This is a scary world.)
Javi is considering get a glass of wine but says that he's never ordered a glass of wine at a restaurant before. He asks Kail how to order it, but she, unfortunately, doesn't have experience ordering a glass of wine either.
"I don't know people who drink a glass of wine. I only know people that drink a bottle of wine," she says.
Awww….it was nice of Kail to give her mom a shoutout like that! Hey Suzi!
"We're adults!" Javi declares as the waiter pours the wine for them. Kail is worried that she didn't dress up enough for such a fancy place and that she sticks out because of her casual hair and outfit.
Um, well, that big ol' 'Teen Mom 2' camera crew probably didn't help much, either. Just sayin'…
Later, they discuss their upcoming family vacation. Kail is unhappy because the date that they are going on vacation happens to fall over Father's Day weekend, when Isaac will be at Jo's for his six-week summer visit. Kail is hoping that Jo will allow Isaac to go with them, but she doesn't think he will give in that easily.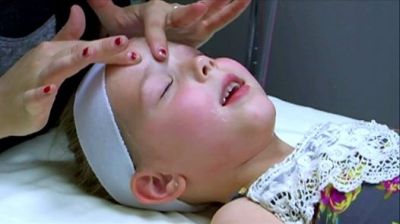 Next we head over to South Dakota, where it's apparently Take Your Child To Work Day over at Chelsea's day spa. Aubree is playing in Chelsea's facial room and Chelsea decides to give her a facial. While this is a really cute scene, shouldn't Chelsea be working on actual clients during work hours? Perhaps she's already touched up every orange-faced woman in South Dakota for the day, who knows?
Over in West Virginia, Leah has yet to hear anything from Corey regarding the child support filing she submitted a few days ago, asking for more money. Leah, who is hanging out at Jeremy's parent's house for the day, tells us that with everything going on she's—wait for it— been really stressed so "she's taking some time off."
Um…from what? The tanning salon job? I figured they canned her raggedy ass as soon as she turned into Suzi McSlurs-a-lot when she was on her pill bender.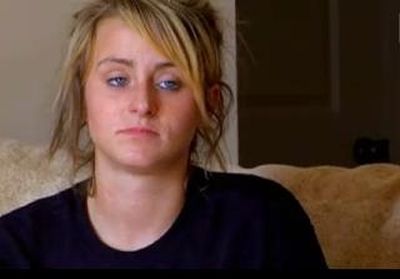 Anyway, she finds  Jeremy lying on his childhood bed. She tells him that she's exhausted and that her new "mom hair" is super-sweaty.
I guess that qualifies as a pick-up line in West Virginia?
Unfortunately for Jeremy, Leah is not interested in a twin-bed romp. Instead, she starts blabbering on about Corey and the "law-yers" and the custody battle. As soon as she starts yapping, Jeremy gets that glazed-over look we've all come to love this season. (It's the same look he had when Leah was trying to buy the $3,000 'wusher' and dryer.) She asks him if he's proud of her for sticking up for herself to Corey, and Jeremy declares that he is, indeed, proud because, well, Corey's "a piece of s**t."
We then learn an interesting fact; it turns out that Aleeah is on Jeremy's insurance, not Corey's like her twin sister. Hmm….
Jeremy says that Corey should be calling the insurance company every day trying to fetch a wheelchair for Ali, and Leah says that she hates all this fighting because she's always wanted "a decent friendship" with Corey. ("Friendship," eh? Um, wasn't it you that ditched your engagement to Jeremy a season or so ago because you were thinking about jumping back into the sack with Corey? You wanted a lot more than a "friendship!")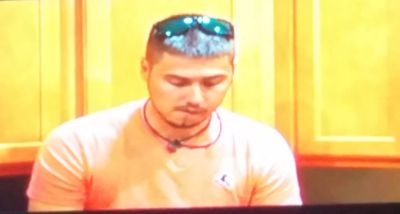 She says that, because Corey hasn't been paying his share, she's through trying to give him a break on child support. She doesn't care if he gets his house taken away or his truck repo'd (Gassssp! Can y'all imagine how big of a laughing stock Corey would be if he were truck-less? A man without his truck in The WV isn't even considered a man!)
Finally, we check in with Jenelle, who is preparing for Baby Kaiser's arrival. Jace is staying at Casa de Jenelle for the weekend, and, for some reason, Jenelle waits until Jace is in the room to start talking smack on the kid. She explains to Nathan what Barbara said about Jace being a terrorist, etc. at school, all while Jace listens. (Well, if he wasn't already headed down the road to someday appearing on an episode of Cops, he certainly will be now that he knows what the adults in his life really think of him!)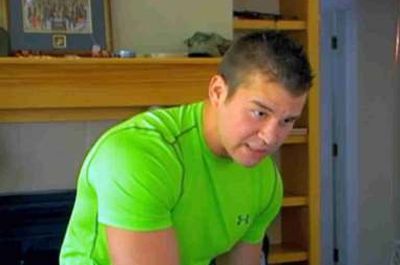 "I don't think he's physically traumatized, he's emotionally traumatized by how she treats him," Nathan tells Jenelle, again ignoring the fact that Jace is literally sitting next to him at this point. They continue to bag on Barb, and decide that they need to "tag team" Barbara and try to get her to sign over custody of Jace to them.
"There's no way in hell that if we took Barbara to court that we wouldn't not get custody."
So.Many.Double.Negatives….I can't….
Over at Corey's house, the twins are playing with Miranda so Corey and his dad Jeff decide to grill and talk about the papers he recently received from Leah's "law-yer." Corey's dad says he thought that everything was good between them.
"We's was doin' fine," Corey says. (And, this time, I swear he actually said that. I didn't make that one up. It was like a little gift, just for me.)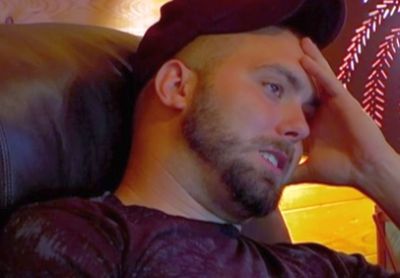 Corey's dad assists Corey by reading the papers to him. He explains that Leah wants more money and medical authority over Ali. Corey says that the girls are better off at his house, and that he'd like more custody of them because Leah hasn't been taking Ali to therapy, and he doesn't like a lot of the things Leah chooses to do, parenting-wise. (Hey, at least the girls get to eat real food at Corey's house! A kid can only eat so many Cheese Puffs and Lunchables, Leah!)
Corey tells us that this custody battle, "ain't gonna be nice." Dun.Dun.Dun.
Back in New Jersey, Kail is picking up Isaac. She decides to ask Jo about taking Isaac on vacation with her and Javi. Jo is kind of worried about having Isaac for six weeks, and is being surprisingly nice to Kail. She then asks Jo about the vacation, but Jo isn't happy about missing Father's Day with his son. He's trying to be rational, which is pretty incredible being that it's Jo. He's being really nice and tells Kail that he's not OK with that. Kail's clearly unhappy but it's hard for her to be mad because Jo is being so damn nice about everything. A nice Jo is kind of like a sober Suzi. I don't know how to deal with that.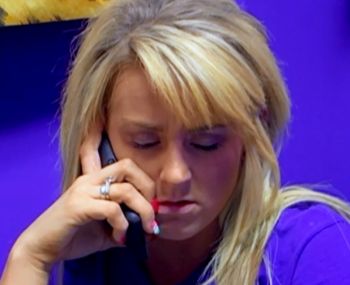 Meanwhile, Aubree is about to have her first T-ball game, and Chelsea is doubtful that Adam will make an appearance. Then, randomly, we change over to Adam's old girlfriend, Taylor, getting her hair done.
Um…why are we watching some chick that we don't even care about getting her hair washed? Taylor is telling her friend that she now understands how Chelsea felt because Adam has a new girlfriend that is always around their daughter, Paislee. Um, yeah, even with the Chelsea mention, we still don't care. Can we just skip to the clip of Adam being arrested? (I'm sure he was arrested this week at least one or two times, right?)
Taylor says she can't believe that Adam left his family for some blond bimbo cougar.
In Carolina, Jenelle doesn't agree with Nathan that it's the right time to talk to Barb about custody of Jace. That's because, after Nathan left, Jace revealed that he was happy staying at Barb's during the week and didn't want to live with Nathan and Jenelle, despite the fact that he told Nathan he did. Nathan is still undeterred about getting custody of Jace, so Jenelle explains that it's best for them to focus on becoming stable for the new baby's arrival before doing anything.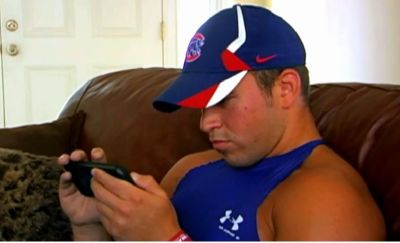 Wait… Jenelle is being the reasonable person in an argument? And Jo is nice? And Suzi is sober? WTF show am I watching?! I don't know but I don't like it. Somebody better start arguing about Kesha concerts pretty soon or I'm going to lose it!
Nathan, of course, turns Jenelle's statement into an argument. He screams to Jenelle that Jace isn't getting the "patience and love" over at Barb's that he can get at their house. (Isn't it ironic….don't you think?) Oh,and he does this while wearing a spandex T-shirt that he's cut the sleeves off of to create some sort of leotard.
Jenelle comes back with a zinger, telling him, "Why don't you worry about your daughter, and I'll worry about my son!"
Oooooh. In.The.Face.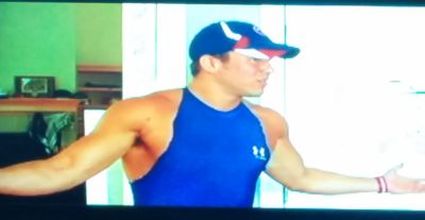 Nathan storms off but continues to scream at Jenelle, demonstrating more of that "patience" and "love" Jace could get if he lived with them.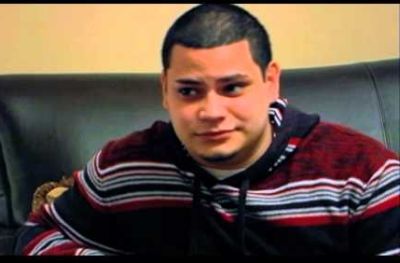 Meanwhile, Jo is talking to Vee about Kail's proposition of taking Isaac for Father's Day. Vee is eating some crackers out of a box, and Jo keeps trying to eat some.
"Go away! You have your own box!" she tells him. "Well…what if I want to eat out of your box?" Jo says slyly, clearly proud of himself for making a tongue-in-cheek sex joke. (Hey, this is Jo, who generally has the personality of a piece of cardboard, that we're talking about. The fact that he made a semi-decent joke is kind of front page news.)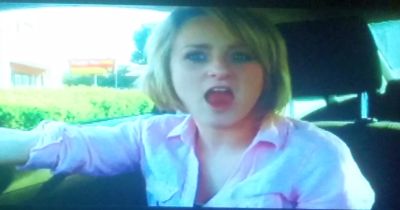 Back in West Virginia, Jeremy and Leah are driving to fetch their youngins from Corey. Leah, who is loudly smacking her lips as she gobbles down a giant box of Sour Patch Kids, comments that her new hairdo "looks like mom hair." Jeremy says it actually looks like "sex hair." (At least, I think that's what he said. Can we get some subtitles up in here, MTV?!)
Um…am I the only one that thinks it looks like Long Island Medium hair? If Leah gets herself a crystal ball, she can probably trick a bunch of hicks into thinking she's that fortune-telling lady from the reality show, what with her camera crew and all. Um…money problems, solved! You're welcome.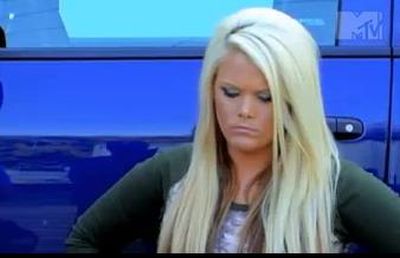 Jeremy and Leah arrive at "the drop-off" to meet Corey and Miranda. Leah immediately starts harping about "The In-surance" and scolds Corey for not calling more. Corey insists that he's doing the best he can and that he's at the mercy of the in-surance company. Meanwhile, Miranda is standing with her head down, willing herself not to go batsh*t crazy on Leah's ass.
Leah tells Corey to "just keep calling" and finally Corey is fed up. He gathers his thoughts (and randomly spits on the ground, as you do) and decides to bring up the fact that Leah has caused Ali to miss several of her therapy appointments. "What we was told we wasn't very happy about it," Corey starts, before he mentions the missed therapy appointments. Of course, Leah comes completely unglued.
Leah insists that there were good reasons for the missed appointments and starts swearing at Corey for bringing it up. With that, Corey turns to Jeremy to be his ally, but Leah shoots Jeremy a dagger look that basically tells him if he sides with Corey, his plug with never again see the inside of Leah's socket.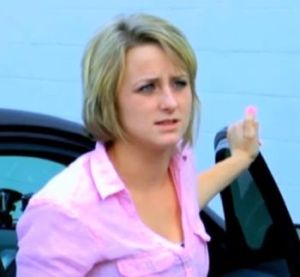 Things erupt, as Leah and Corey are screaming back and forth. "COREY TYLER!" Leah screams, as if he was one of the youngins that was misbehaving. Corey just shakes his head and smiles and you can tell he just wants to jam that box of Sour Patch Kids down his ex-wife's throat.
JERRY! JERRY! JERRY!
Jeremy and Miranda try to intervene and reason with their spouses, but nothing seems to be working. "It's all y'all!" Corey screams. (I feel at this point Corey's quotes are seriously just for me.) They decide that they will deal with everything in court.
Here's a question: why doesn't Leah just put on her headset from a few episodes ago and give the in-surance people a call herself?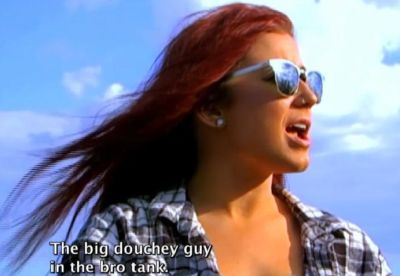 We then finally get back to Aubree and Chelsea going to the softball game. (I guess Taylor's hair appointment is over?) Chelsea tells Aubree that everyone is coming to watch her game, and she immediately asks if her daddy will be attending. Chelsea has no clue if Adam will be able to take time from trimming his soul patch to make it to his daughter's game. Halfway through Adam (and his girlfriend, Jessica) arrive, looking like they just stepped off the set of Farrah Abraham's latest skin flick.  Aubree is thrilled to see him, but Chelsea is not.
Aubree is having a great time running around on the field, and Chelsea goes to bitch about Adam and his "p0rn star girlfriend" to her mom, South Dee-ko-tah Mary. (While this is going on, Aubree's T-ball game has basically turned into a toddler wrestling match, for some reason.) During the entire game, Adam's girlfriend is looking at her phone (possibly booking webcam appointments?)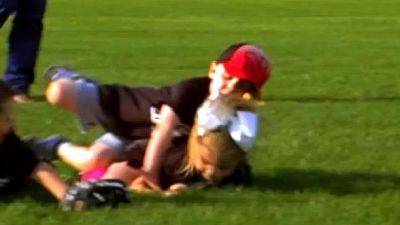 Adam is ready to bolt as soon as the last toddler is tackled, and afterward Chelsea and Other Chelsey discuss how old Adam's girlfriend looks. They take bets on how many months it will take Adam, the Sultan of Sperm, to impregnate her. Chelsea says it will take two months for him to knock this broad up.
In Carolina, Jenelle has arrived at Casa de Babs to help set up for her baby shower. Nathan has still refused to help decorate, but little Jace graciously offers to help. Jenelle seems less-than-enthused about his offer, so Jace sadly asks, "You don't want to do it with me?" Jace tells his mom that, "If he doesn't want to go, we'll go by ourselves. It's your choice." Wow, Jace is really smart.
Jenelle collapses into tears, telling Jace how mean Nathan is to her. Jace tries to make her feel better by singing a song about rainbows, which is both incredibly sweet and heartbreaking at the same time. In another attempt to help Jenelle stop crying, Jace tells her that, his "mom" has ice cream sandwiches that she can have. Of course, this makes Jenelle even more upset, because he is referring to Barb as his mother instead of Jenelle.
Jenelle pulls up to Barb's house.
"Oh, hi Juh-nelle!" Babs yells.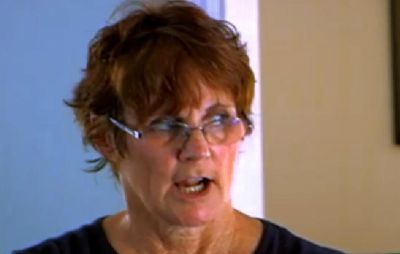 Jenelle informs Barb that Nathan is being a bitchy little girl and won't be helping them set up for the baby shower, which makes Babs angry.
"Is he doin' his ti-tosterone?" Babs asks. "He seems like he's in a steroid rage!"
Not gonna lie…hearing Barb say "ti-tosterone" basically made my whole damn year.
Jenelle denies that Nathan is roided up on the "ti-tosterone" and is busy playing on her phone, which pisses Barb off. Immediately Babs yells at Jenelle to get off the phone, which makes Jenelle yell about everyone yelling at her. Barb yells that she's not yelling and it's honestly just ridiculous at this point. Jenelle storms out, and it's just like the olden days of Season 1 and 2, except Barb isn't charging out of the house with laundry baskets full of Jenelle's stuff.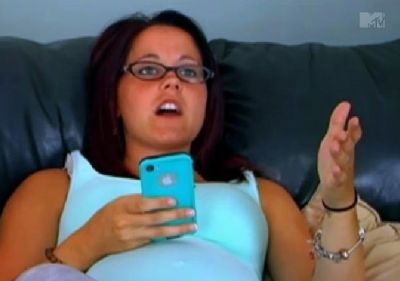 Oh, how I miss those days…
As Jenelle speeds off, Barb heads to the phone to bitch out Nathan, all while poor Jace is left crying. He's clearly upset by all of the stuff he's witnessed over the last day or so. Seriously, can someone page Dr. Drew and get him to North Carolina ASAP?
"I'm gonna cancel the friggin' showa!" Babs yells, while Jace tries to comfort himself.
"Nathan, what is wrong with you?!" Barb yells into the phone. She cusses into the phone and knocks over a chair, as Jace cries. It's so, so sad. I really wish Jace could go live with Kail, Chelsea or Leah.
Back in West Virginia, we are given the opportunity to listen in on Jeremy and Leah's conversation during the car ride home from the big fight with Corey. Leah asks Jeremy is he's mad that she cussed, and when he doesn't say anything, she cusses some more, and then Jeremy cusses. All of this is happening while one of the twins keeps asking, "Can we go with Dad?" I'd say it's a hot mess but….with Leah and that hair…that's kind of a stretch with the "hot" part. Aleeah then tells them both to, "Be quiet!"
I so agree, Aleeah.
Next week, Chelsea's mad that Taylor is "posting selfies" of her kid, Leah's mad that Corey is trying to get full custody of the twins, Kail is mad that Isaac is leaving for six weeks, and Jenelle is mad that a baby is coming out of her hooha.
To read The Ashley's recap of the previous episode of 'Teen Mom 2,' click here!
(Photos: MTV)