Grab your Pitocin shots and put your feet up (in the stirrups)–because we're having a baby tonight folks! That's right– get ready for a Very Special Episode of Teen Mom 2. These occur when one of three things happen: Someone beats the BeJesus out of their boyfriend/spouse/mother/baby-daddy; someone gets all hopped up on The Drugs and MTV couldn't find a way to hide it, or someone shoots a human from their loins, which is what we'll be treated to tonight. For a show that is supposed to "prevent" pregnancy, there are sure a lot of people crapping out new babies on the regular, no?
Anyway, we kick things off with Jenelle, who is just days away from delivering her next child. She is still reeling from her big fights with her "ti-tosterone ragin'" boooooyfriend, Nathan, and her mom Barbara, but since she's about to have a baby shower, she's decided to put her angry feelings aside and collect all of the free loot. Jenelle has invited all of the local degenerates and Carolina hoodlums to share in her baby joy. (OMG– will Trashbag Tori make an appearance?! I mean, somebody's got to bring Baby's First Illegally Obtained Prescription, right?!)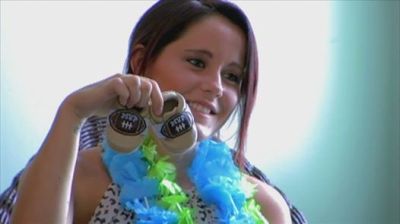 Babs is very proud of the cake she's purchased for the shower. "Welcome Baby Kaaaaisah!" the cake reads. As the ladies file in, we realize that nearly every single one of Jenelle's friends has 1) bad eyebrows or 2) a baby, or both. Seriously, did MTV just stand in the Oak Island Waaaaahl-mart's baby section and offer people free cake if they'd come and pretend like they're Jenelle's friends?
Jenelle opens all of her gifts and then everyone leaves. Jenelle heads home with Jace, but later that night her water breaks. She calls Babs to come pick up Jace so that she and Nathan can head to the hospital. Of course, since Nathan is a total drunken degenerate and isn't allowed to drive, Jenelle is forced to drive herself, leaking vagina and all, to the hospital.
Here's a good rule of thumb ladies: If the man you choose to have a child with isn't legally allowed to drive you to the hospital to give birth, you shouldn't be having a child with him. #TheMoreYouKnow
Anyway, as Jenelle and Nathan are driving away to the hospital, Bab yells, "Be cahhhful! Don't speed!"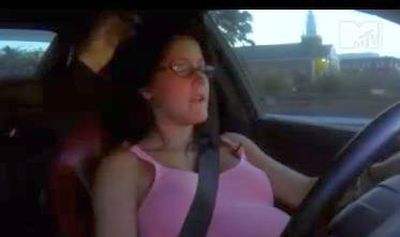 If only we had a dollar for every time Babs or one of Jenelle's drug counselors told Jenelle "don't speed!" Or heroin.
Jenelle is chatting with Nathan on the way to the hospital, talking about how the water broke at the perfect time, i.e. after they got a bunch of free stuff at their shower. Nathan, however, is mute because he barely had any sleep, having just gone to bed at 4 a.m. after working a long shift playing video games until his eyes glazed over.
Next, we head over to Delaware to check in with Kail. She and Javi talk about their fight over Jo and the vacation. Kail is sad that Isaac will be leaving and going to Jo's house for six weeks. However, Kail plans to use the time without Isaac to go back to school. She wants to get a degree so that her kids will have a better future. (After Kail graduates, she should help Maci out. That chick's been in junior college since Bill Clinton was in office! Seriously.)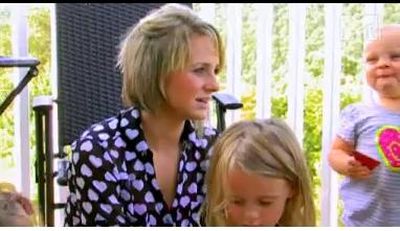 In West Virginia, Leah is still butt-hurt that Corey accused her of not taking Ali to therapy enough. She tells her cousin (?) Chasity how she "done told the therapist" what Corey had said about her missing the therapy sessions, all while hordes of kids crawl all over her and Chasity. She then tells her cousin that she and Jeremy are getting along a lot better these days, but she feels bad that Jeremy is in the middle of this whole Corey custody court mess.
So do we. So do we….
Finally, we check in with Chelsea, who is busy plucking lip hairs off the faces of South Dakota's finest. Later, she and Other Chelsey are scrolling through social media when they discover that Adam's ex, Taylor, has posted a "selfie" of her and Aubree together. Chelsea's angry that Taylor is trying to get attention by posting a photo with Chelsea's kid, so she calls Taylor a "f**kin' freak." Chelsea decides to text Taylor and let her know that she's crazy, and to demand that she stop posting photos of Aubree.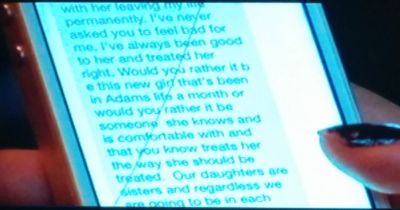 "Adam chose to put his di*k everywhere and get everyone pregnant and now I have to deal with it," Chelsea says, just as Taylor replies to Chelsea's text. We get a glimpse at the text, which basically makes Taylor sound anything but crazy, actually. She explains that she's always treated Aubree well, and that she would hate to have Aubree leave her life for good, since they've grown close during the time Taylor dated Adam. And, hey, isn't it better that it's her around Aubree rather than the skanky p0rn star wannabe Adam's been dating?
Of course, Chelsea freaks out and replies that Taylor needs to stop putting the pictures up.
The next day, Adam and Taylor go on a picnic lunch together with their daughter Paislee. They are still broken up (we can tell because Taylor's little torn piece of paper thingy still identifies her as "Adam's ex.") They discuss the Great Picture Caper and Taylor says that Chelsea was being irrational. Adam says that Chelsea was "probably just jealous." Taylor, who is still obviously after Adam's junk, says "Jealous of what? It's not like you and I are together," to which Adam replies "Nope!" ridiculously fast.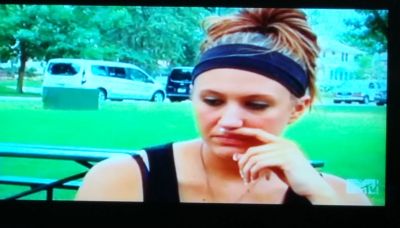 Taylor tells Adam that he and Chelsea need to work on their co-parenting, and then asks Adam how his new relationship is going. He says that him and Jessica are fighting a lot and then asks Taylor if she'd like to "co-parent" with him more. (So…has the word "co-parent" basically just become a code word for "banging the crap out of each other" on this show?) Taylor eagerly jumps at the chance to have her Knight In Shining Affliction Gear back in her arms.
Meanwhile, Kail is signing up for college, and her friend Morgan (who appears to have stopped at Chelsea's salon on the way over because she is sporting a delightfully orange skin color), comes over to discuss it. Kail is worried about going back to school amongst a bunch of 18 year olds. "They're not going to know you're a mom!" Morgan says. (Um, that whole 'Teen Mom 2' thing may be a pretty big hint, Mo.)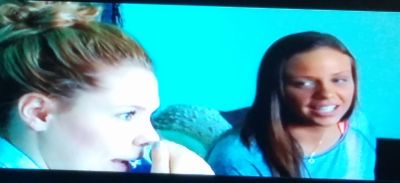 Kail says she is sad that she isn't graduating like a lot of her friends, but is looking forward to getting her degree because she "wants a real job."
A girl on this show actually wants to get a real job outside of MTV? My head is spinning guys, give me a minute…I don't know how to process this…
Over in Carolina, Jenelle is all hooked up to the baby birthin' machines. Nathan, who was surely disappointed to find out that the green Jell-O served at the hospital cafeteria did not come in a Dixie cup and have vodka in it, is by Jenelle's side.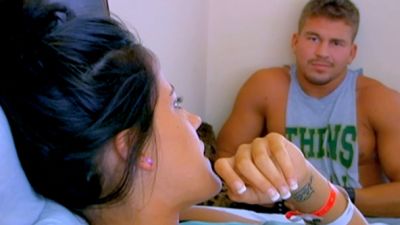 Barbara is also there, watching as Jenelle struggles through her contractions. She's in a lot of pain and has to wear an oxygen mask. Jenelle tells everyone that she feels like she has to poop, and Barbara encourages her to do that.
Jenelle gets her feet in the stirrups, and starts to push, but there appears to be no doctor there. (Wait…please, oh Baby Jesus, tell me Barb is going to deliver the child. "Push, Juh-nelle! Bayah down and push tha kid out!")
All of a sudden, the camera cuts out and we see Baby Kaiser for the first time. Wait, we don't get to see Jenelle grunt the kid out? What a ripoff! I put up with nine months of her whining about her pregnancy and we don't even get to see the birth of the baby. COME ON!

Anyway, baby Kaiser is perfect, and we are treated to a montage of photos of the baby with various family members. A few days later, Jenelle and Nathan bring Kaiser home. Their friends come over and Jenelle bitches about how Babs took over when Jace was born and wouldn't let her do anything for him because she was controlling.
Um… well, that and the fact that you were "HIGH! HIGH!" like a day after Jace was born.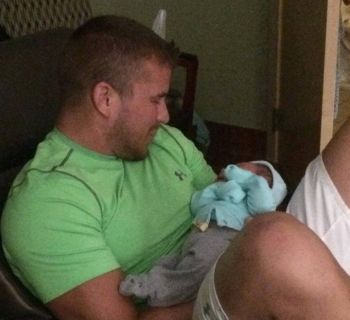 Jenelle seems to be determined to do better with Kaiser, however. Nathan is actually stepping up and taking care of the baby. (He is, of course, wearing his neon wetsuit shirt again.) Barb is going to drop off Jace to see Kaiser, and Nathan makes it clear that he doesn't want Babs stepping in and trying to parent the new baby.
Over in West Virginia, Corey and Miranda are heading over to the "law-yer" to talk about getting more custody of the twins. Corey says that the girls need more "structure" in their lives, and that he has his own views on how he wants them raised.
"I put 50 percent effort into making them, just as much as she did," he says.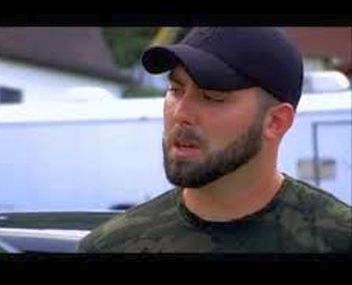 OK…am I the only one that heard that and immediately pictured a huffin' and puffin' Corey "making babies" with Leah in the bed of his pickup truck? Ugh. That's enough to give ya nightmares, eh?
Anyway, Corey says that he isn't able to talk to Leah and Jeremy about what he'd like to see changed in terms of the girls' lives because they freak out. He says that he and Leah were able to "co-parent" great before (mmm-hmm) but that's only because Corey would give in all of the time and let them do whatever they wanted.
Miranda, as always, is a voice of reason and strength for her husband. She is encouraging him to stand up for himself. Gosh, I love her. After Barbara, Miranda may be my favorite 'Teen Mom 2' character.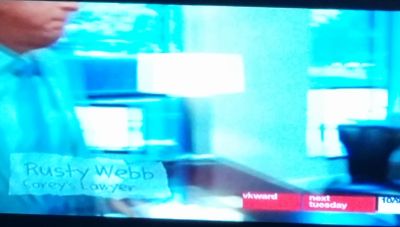 Corey and Miranda meet up with their lawyer, whose name is legit "Rusty Webb" because…of course it is. Rusty Webb tells them that Leah wants more money and decision-making authority over Ali because Corey hasn't been following the doctor's orders. Corey brings up that Leah hasn't been taking Ali to her therapy appointments, so Rusty Webb suggests that Corey file a petition to make Corey the primary parent and Leah a weekend parent.
Rusty Webb says it's going to be hard to get Leah to give up custody, so we should prepare for a brawl, y'all!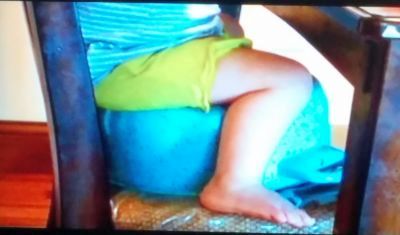 Leah, meanwhile, is feeding her youngins' a nutritious McDonald's lunch. The camera crew makes sure to zoom in and let us viewers know that Baby Addy is actually sitting on a turned-over pot so that she can reach the table to maul her McNuggets. I guess that qualifies as a booster seat in The WV? I mean, at this point, Leah is just doing these things to provide The Ashley fodder for her recaps, right?
Later, Leah gets a "very upsetting email" from Corey's law-yer so she calls Jeremy to discuss it. (And, yes, Jeremy is saved in Leah's phone as "My Hubby and My Best Friend." As you do.)
Leah tells Jeremy that Corey is seeking full custody of the girls and wants Leah to pay him child support. Of course, this makes Leah very upset, but Jeremy doesn't seem to be worried. "It's not like you're shooting up heroin every night," he tells her. Leah says that Corey's request is just a way of him cutting her down, and that she's always tried to be really good to Corey in terms of the girls. Jeremy says that Corey and Miranda have no idea what it's like to take care of the twins full-time, and Leah vows to call her "law-yer" about this.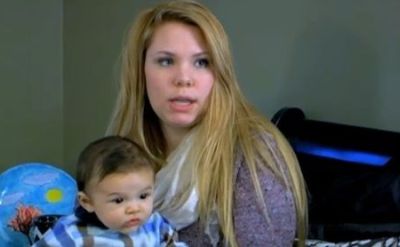 In Delaware, it's time for Isaac to go to Jo's for six weeks. During the drive to Jersey, Isaac tells everyone that he doesn't want to go to Jo's. Kail is worried that she will collapse into tears when she has to say goodbye to Isaac. She thinks Jo won't take care of Isaac the way she and Javi do.
The gang arrives at Jo's apartment in jersey and Isaac is asleep. Kail's sad that she doesn't get to say goodbye to Isaac, so she starts crying in the living room. Vee tries to comfort her and assures her she'll send her plenty of photos, which is sweet.
Meanwhile, it's time for another one of Aubree's cornfield softball games. Adam makes an appearance, with Paislee, and Aubree is thrilled to see him. Chelsea is unhappy that Aubree won't concentrate on her game now that Adam has arrived. During the game, Adam talks to his friends about his relationship with Jessica. (Wait, why are Adam's friends at the game? Are there seriously so few things to do in their town that a kid's T-ball game counts as quality entertainment?)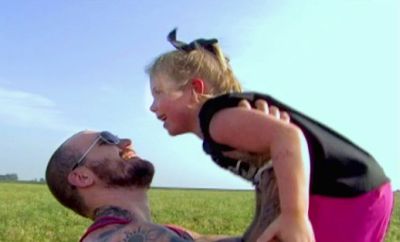 Adam reveals that he and Jessica have broken up, and that he has been texting Taylor again. In fact, he invited her to Aubree's softball game.
Oh, guuuuuuurl. I can't wait to watch Chelsea slice her cat claws through Taylor's face! Finally, this T-ball game is getting exciting!
Unfortunately, no one ends up bleeding, but Chelsea tells her dad and Other Chelsey how stupid it was for Taylor to come to the game.
In Carolina, Babs and Jace have arrived to see Baby Kaiser. Jenelle shows Babs Kaiser's room, and as soon as Jenelle goes to change the baby's diaper, Babs tries to give her parenting tips. Babs says she's glad that Nathan and Jenelle are doing so well "co-parenting." (Mmm-hmmmm) They let Jace hold the baby and Babs asks him if he likes his new "brutha." Jace seems to be indifferent.
Next week, Adam gets arrested (again), Jenelle demands custody of Jace (again), Kail is worried that Isaac will like Jo's house more than her house (again), and Leah  and Corey head to court (again!)
To read The Ashley's recap of last week's 'Teen Mom 2' episode, click here!
(Photos: MTV)