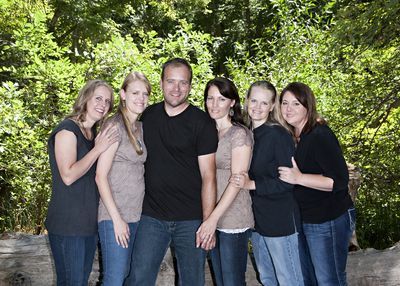 The Williams family of TLC's controversial reality show, My Five Wives, will be coming back to our television screens starting in October. The network announced in a press release issued yesterday that the show's second season will begin airing on October 19, and, from the sound of it, should be quite entertaining.
While the network hinted that there will be some "potential additions" to the "ever-expanding Williams family," it did not specifically say that husband Brady Williams had once again knocked one of his five wives up.
"The Williams face changing dynamics in the upcoming season, from potential family additions to those leaving and embarking on new journeys away from home," the press release reads, adding that the family will also consider moving from their home in Utah to Washington state, where Brady's parents live.
While that's all well and good, there was one part of the press release that really stuck out to The Ashley: Brady will be demanding that his wives go on double dates with him to help them become better friends with each other.
No.Seriously.
"This season, Brady attempts to bring his wives closer together by instituting double dates, thus compelling Paulie and Rosemary to mend their sister-wife relationship," it reads.
Guuuuuurl! I feel a polygamist catfight brewing! Not only do these women have to share a husband, but now they have to share dates with each other?! Come on!
One thing the press release did not address is the fact that Brady and his wives–Paulie, Rosemary, Rhonda, Robyn and Nonie–recently filed for bankruptcy, claiming to be broke. In July, news broke that Brady had filed papers claiming that he only had $4 in his savings account, and had 30 people to take care of. The Ashley reached out to TLC, but the network said it had no comment on the situation.
The first of the 10 new episodes of 'My Five Wives' premieres on October 19 on TLC.