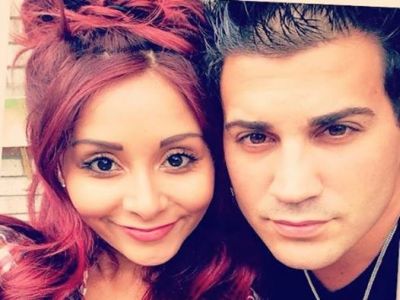 After months of "fit pregnancy" Instagram posts, in which a pregnant-but-still-trim Nicole "Snooki" Polizzi worked out despite her giant baby bump, the Jersey Shore star has finally given birth. Nicole announced on her Twitter account on Friday morning that she and her fiance, Jionni LaValle welcomed their little girl earlier that day.
Nicole, who is already mother to two-year-old Lorenzo, told her Twitter followers that her daughter weighed in at 6.7 lbs, and had a "full head of black hair & [is] perfect."
In May, Snooki talked about how thrilled she is to have a baby girl.
"I'm so excited about having a little best friend to shop with and just do girlie things with!" she told ABC News. "Can't wait for that!"
Jionni and Nicole chose a very Italian name for their little girl. Giovanna Marie. Giovanna means "gift from God" in Italian.
Fans will likely get to see little Giovanna's birth play out on TV, since Nicole is currently in the middle of filming the fourth season of her reality show, Snooki & JWoWW. No premiere date for the new season has been announced.
Nicole's co-star on the show, Jenni Farley, also recently gave birth to a daughter. She and fiance Roger Mathews welcomed Meilani Alexandra in July.
Nicole and Jionni received plenty of warm wishes from their former 'Jersey Shore' co-stars via Twitter after news of Giovanna's birth broke.
"My best friend @snooki gave birth to a gorgeous baby girl!!! Giovanna is a stunning 6.7lb perfect angel," Jenni tweeted.
"So happy for my friends @snooki & @JLaValle can't wait to meet their new bundle of joy," Sammy 'Sweetheart' Giancola wrote.
Nicole has said that she and Jionni will marry later this year, and that they plan to have more children.
Congrats to Nicole and Jionni!
UPDATE: According to Stacey Wechsler, a PR rep for Snooki, the photos circulating around that media outlets are claiming to be the first photos of baby Giovanna are not real. They are actually photos of newborn Lorenzo. "There are no images at this time," Stacey tweeted on Friday afternoon. (So basically we can expect Snooki to introduce Baby Giovanna via an Us Weekly or People photo spread.)
(Photo: Facebook)