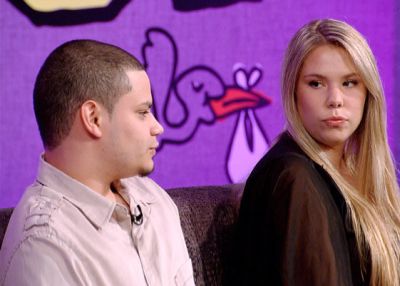 Teen Mom 2 star Kail Lowry has been under fire with fans since a preview of tonight's season finale aired, showing a text that Kail sent to her son Isaac's father, Jo, regarding a haircut he wanted to give Isaac. In the preview, Kail is seen texting Jo that she didn't want Isaac's hair cut a certain way because, "Little white boys don't get their hair cut like that…He's too young for that. He's half white. I don't like his hair cut like that. Please don't do it."
Obviously Isaac is both Puerto Rican and white, but fans commented that Kail's text was racist and out of line. The 'Teen Mom 2' star took to her Twitter earlier this week to defend herself, tweeting, ""Bahahahahahaha ok, I'm not racist. Gotta make good TV somehow!"
Fans accused Kail of trying to lay the blame on MTV for her words, but according to Kail's friend, Toni Ziegler, who was with Kail when the texts with Jo were exchanged, fans aren't quite getting the full story of what went down.
"Kail does regret saying that because she wants Isaac to embrace both of his cultures but it didn't go down quite how it's being shown," Toni told The Ashley exclusively. "She was wrong to say it, for sure, but she was upset that Jo tries to change Isaac's life and look so much whenever he goes over there. Plus, a lot of the time Jo just does it because he knows it makes Kail mad. He likes to push her buttons."
In fact, Jo and Kail resolved the haircutting issue off-camera, but when MTV caught wind of the situation, they jumped at the chance to make that "good TV," says Toni.
"Jo wanted to make Kail look bad on-camera, he actually told her that's what he wanted to do by telling MTV," she said.
The show's producers were so desparate to get the drama on-camera, they actually rented Jo a car so that he could drive to Delaware and get Kail to talk about the haircut on camera.
"They totally pressured Jo into doing that," says Toni. "There's no way he would have done it on his own. And, they wouldn't tell Kail what it was Jo wanted to discuss when he came over. She knew something was up."
On tonight's episode, Kail is seen getting upset and yelling, "I already told you!" at Jo. She does this because the situation had already been solved a month prior and she didn't understand why they were bringing it up again, says Toni, who added that things are very tense between Kail and Jo at this point.
"She's taking a lot of crap from viewers who don't know how things really happened," Toni added.
You can see it all go down on tonight's season finale of 'Teen Mom 2.'
(Photo: MTV)