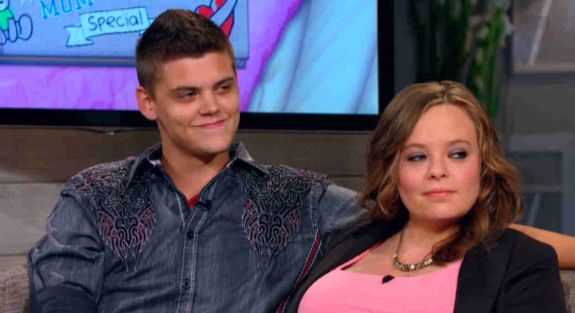 Teen Mom star Catelynn Lowell's due date is fast approaching! The reality star is currently six months pregnant with her second child, and she and her fiance Tyler Baltierra are doing their best to get ready for their baby's arrival. Catelynn, who is pregnant with a little girl, is due on January 11. Her friends and family have planned a baby shower for her, which will be held on November 9!
Wanna see her shower invite? Click here!
The Ashley took a peek at one of Catelynn's baby registries (because, as her readers know, there's nothing The Ashley loves more than creeping on other people's registries!) What will Baby Baltierra be wearing when she arrives in January? Judging from the items that Catelynn registered for, a whole lot of pink! From pink ruffle shorts, to pink gowns and onesies, Catelynn is definitely keeping things girlie for her little one!
From her registry, we also learned that Catelynn is planning to breastfeed, as she registered for a breast pump, nursing cover and other breastfeeding supplies. As for the baby's nursery, it appears that Catelynn and Tyler will be decorating the room in a pink princess and butterfly motif!
This has been a much happier pregnancy for Catelynn than her first one. Back in 2008 when Catelynn, then 16, was pregnant with her and Tyler's first daughter, Carly, her life was in turmoil, as she and Tyler tried to decide whether or not to place their baby for adoption. (They ended up placing Carly for adoption but still have a close relationship with her.)
Catelynn recently tweeted how excited she gets just being in the baby's room.
"Sometimes I sit in her nursery all alone & think about how awesome life will b when shes here so excited 4 our little family. Our turn now!" she tweeted.
(Photo: MTV)