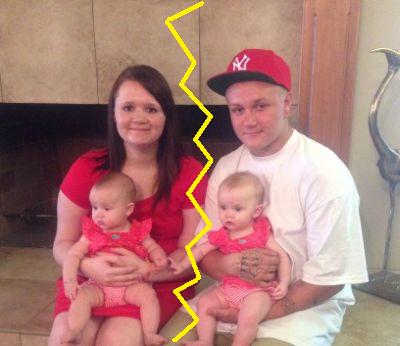 Another 16 and Pregnant marriage has gone belly-up! Karley Shipley, who married the father of her twin girls, Tony, right before MTV began filming her for the show, has announced that she and Tony are separating.
On Saturday, Karley opened up about the split on her Ask.fm account, stating that she and the twins will be moving out of the home she shares with Tony and back into her parent's house. However, their separation appears to be amicable at this point, judging from one of the statements Karley posted.
"Things aren't bad between us," she wrote. "We still care for each other and are still on friendly enough terms that I'll make him dinner."
Karley, now 18, said that for now she and Tony are separating because they "just feel it's the best thing to do." While the babies will live with Karley, she said that Tony will still get to spend plenty of time with them. She later posted a statement about the split to her Twitter account.
"I'll always love Tony more than anything and we'll always be friends, but maybe that's it," Karley wrote. "We'll still be doing things as a family and we'll still spend plenty of time together. But regardless of that, we are not a couple at the moment."
She did not indicate what caused the split, but her tweets hint that there may have been some infidelity going on in the relationship. Either way, she appears to be happy with her decision, tweeting, "I'm a free woman!" on Sunday.
Fans of '16 and Pregnant' may get to know more of the story behind Karley's split soon. As The Ashley exclusively reported earlier this week, MTV is currently in the process of putting together a "Where Are They Now?" special about the Season 5 girls.
Karley and Tony appear to be just the latest victims of the '16 and Pregnant' marriage curse. Their Season 5 co-star Summer Rewis is also in the process of ending her marriage to her baby's father, DJ, after less than a year of marriage. They are not the only former '16 and Pregnant' stars to see their marriages fail. To date, only four '16 and Pregnant' girls that married their baby's father are still married today: Season 2's Brooke Smitherman, Season 3's Jordan Ward, and Season 4's Mackenzie Douthit and Myranda Trevino. The rest of the marriages have all ended in divorce.
To read The Ashley's recap of Karley's '16 and Pregnant' episode, click here!
UPDATE: It appears that Karley and Tony have reconciled and are working on their marriage.
(Photo: Facebook)