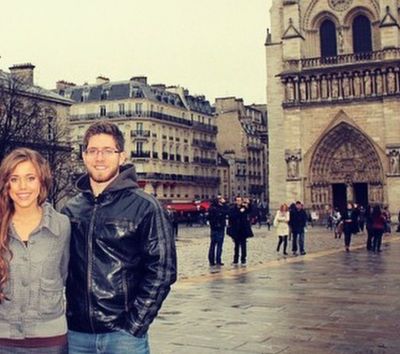 Jessa Duggar and Ben Seewald have been enjoying an extended honeymoon since getting married on November 1. After tying the knot, the 19 Kids and Counting stars hustled away from their  friends and family to finally enjoy some alone time as husband and wife. While Jessa and Ben have not revealed where they are honeymooning, a sharp-eyed fan has exposed the location to be Paris, France!
Jessa was spotted by multiple people while she and Ben visited the Eiffel Tower, and were later photographed with fans in front of the Cathedral of Notre-Dame.
"We met @jessaseewald and @ben_seewald," the fan captioned the photo of her and her friends with Jessa and Ben. "Such a cute and sweet couple! It was so crazy to pass them at the Eiffel Tower then see them again at Notre Dame! Happy Honeymoon to them!"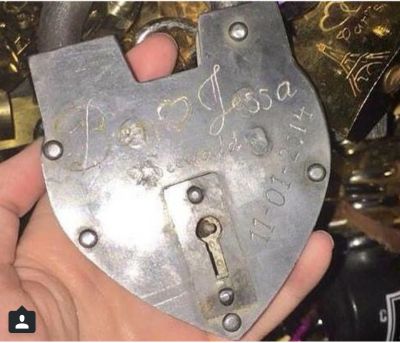 A Duggar family fan Instagram account posted a photo of Jessa and Ben's "love lock," which they left at the Pont de l'Archeveche. (It's a tradition for lovers that visit the spot to have their names inscribed on a lock that is later clamped onto the bridge. The key to the lock is thrown away to symbolize unbreakable love.)
Some fans may feel bad for Jessa and Ben because their honeymoon may no longer be private; however, being that the couple reportedly brought a TLC camera crew with them to film the honeymoon for '19 Kids and Counting', we really shouldn't feel all that bad at the loss of privacy.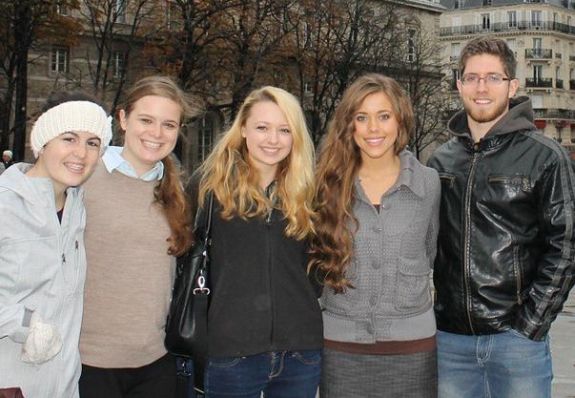 The fact that Jessa and Ben allowed TLC to film their honeymoon for the show may be the reason they got such an elaborate honeymoon, compared to the close-to-home honeymoon her sister, Jill, took with her new husband Derick Dillard. Jill and Derick rented a honeymoon cottage on the beach in Kill Devil Hills, North Carolina. The couple did not have their honeymoon filmed, and instead enjoyed some long-overdue privacy, which, of course, resulted in Jill coming back from her honeymoon pregnant with the couple's first child.
Jill and Derick only took a week-long honeymoon, while Ben and Jessa's honeymoon has spanned several weeks.  Jessa and Ben (and the baby that she will inevitably be carrying) are due home before Thanksgiving, according to multiple reports.
(Photos: Instagram)