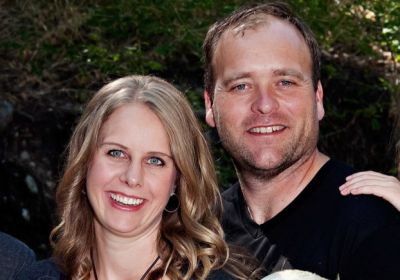 Brady Williams will soon be adding another child to his "bunch."
Bogner Entertainment, the company that produces Brady's reality show My Five Wives, announced on their Facebook page today that Brady's fourth wife, Nonie is pregnant again! The family's Twitter account later posted the link to the announcement.
"Congrats to Nonie from My Five Wives on being pregnant!! We are sooo excited for the little one to arrive… A grandchild and now another baby!! Brady and Wives," the caption of a photo of Nonie's sonogram read.
This will be the sixth child for Nonie and the 25th child for Brady, who also has a litter of children with each of his other four wives.
Nonie's desire to get pregnant again has been a focus of many 'My Five Wives' episodes. On last night's episode, which showed Brady, the wives and a bunch of the kids going out on an RV trip, Nonie was seen crying to Brady's mother, Stella, about her desire to have another baby. She and Brady had been experiencing some trouble conceiving.
While many fans of the show responded with congratulatory messages to the Facebook announcement, others were not happy to hear the news. Many of the nay-sayers cited the fact that Brady filed for bankruptcy back in July and reported that he had over $400,000 in debt.
"Seriously? You guys just declared bankruptcy!" one Facebook commenter wrote. "How can you afford another baby? I guess we should really be congratulating the tax payers of Utah, they're the ones who will be paying for this baby."
"I will say a baby is always a blessing, but I thought the same thing- bankruptcy and a new baby? It seems irresponsible," another wrote.
The new baby will have a nephew that is very close in age to him or her. In October, Brady and Paulie's daughter, Karley, gave birth to a son. The baby, named Jacob "Huck" Jessop, was born 15 weeks premature and is still currently in the hospital. He is Brady's very first grandchild.
To see a family tree of the entire Williams family (excluding Baby Huck), click here.