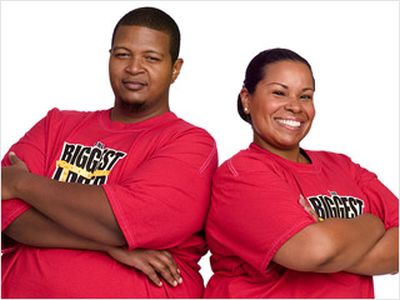 Damien Gurganious, who appeared on The Biggest Loser: Couples in 2009, died on Monday at the age of 38. Damien and his fiance Nicole Brewer appeared on the show's seventh season, in hopes that they would both lose weight before their upcoming wedding.
On Sunday, Nicole, who married Damien in 2009 after appearing on the show, revealed to her friends and 'Biggest Loser' family members what happened to her husband.
"As most of you know, I never post on social media," she wrote on her Facebook page. "So, it is highly ironic and deeply sad that my first true post is to inform you of the tragic loss of my beloved husband, Damien Gurganious."
Nicole went on to explain that Damien died as a result of inoperable bleeding in his brain brought on by a sudden onset of an autoimmune disease known as Idiopathic Thrombocytopenic Purpura (ITP).
Unfortunately, The Ashley knows a lot about this disease; she battled with it for nearly 10 years as a child. Basically, it causes your body to kill its own platelets (the things that help to clot your blood). Without platelets, your body is susceptible to excessive bleeding and bruising. If the platelet counts gets too, the person can begin to bleed internally, which is apparently what happened to Damien. From Nicole's post, it does not appear that Damien knew he had the disease, as it tends to come on very fast.
In her post, she paid tribute to the man that Damien was.
"All of you who knew Damien can attest to his generous and loving spirit, his outgoing and gregarious personality, and his caring and compassionate nature," Nicole wrote. "Damien always desired to bring out the best in those around him by offering encouragement, support and love, often couched in his own hilarious and sage adages."
Nicole and Damien lost a combined total of 264 lbs. while on 'Biggest Loser.' They are the parents of two-year-old Giselle.
If you'd like to make a donation to help Damien's widow and child, a friend has set up a YouCaring fundraising page. Click here to donate.
(Photo: NBC)