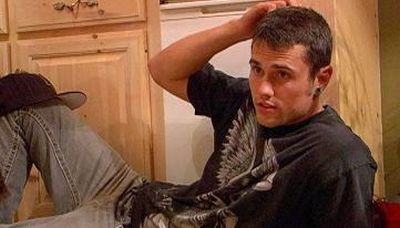 Ryan Edwards, the father of Teen Mom star Maci Bookout's son Bentley, is recovering after being involved in a head-on car crash on Friday. TMZ broke the news that Ryan was left with a bloody head wound after the Camaro he was driving crashed head-on into another car on a Chattanooga, Tennessee, road.
According to TMZ, multiple witnesses "saw Ryan swerve across double yellow lines — while apparently speeding — and smash into another woman's vehicle. The other driver was taken to the hospital by ambulance. Ryan refused … instead opting to have a friend pick him up at the crash site."
The site was "kind" enough to include a photo of Ryan all bloodied (he appears to be checking his phone in the photo?), as well as a picture of Ryan's smashed-up car. Click here if you're into that stuff and want to see them.
Anyway, Maci was unhappy with how the story was being reported, so she took to her social media accounts to set the record straight.
"Ryan was involved in a car accident yesterday, the articles 'reporting the story' have many errors in their facts," she tweeted on Saturday. "Thankfully Ryan is okay!"
Ryan has been silent on his social media accounts, but his mother, Jen, retweeted Maci's statement.
TMZ reports that the crash is still being investigated. It is unlikely that Ryan's crash will be a topic of the upcoming fifth season of 'Teen Mom,' which comes back on the air next year. The Ashley's source tells her that the Season 5 filming is basically done, so Ryan's car was probably not equipped with an MTV camera at the time of the crash. This is not confirmed, however.
As Starcasm pointed out in its reporting of the story, Ryan seems to enjoy driving fast. This was evident when he tweeted a photo of the speedometer of his Camaro (the car involved in the crash) hitting 115 mph while he was driving it in November.
On December 4, Ryan's mother Jenn, tweeted that her son "scared the sh*t" out of her when she rode in his car. That same day, he posted his sentiments.
"I let my fear decide my fate."
The Ashley will update this story when more info becomes available.
(Photo: MTV)