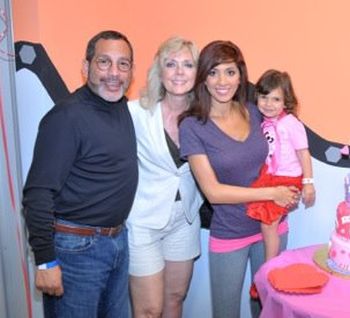 Yesterday, MTV released four sneak peek videos of the upcoming new season of Teen Mom. A clip was released of each girl– Amber Portwood, Maci Bookout, Catelynn Lowell and Farrah Abraham. During Farrah's clip, viewers saw her parents, Debra Danielsen and Michael Abraham, talking to producers about how Farrah felt outcast by the network after her "adult film/private movie/whatever we're calling her butt video these days" was released.
Since Farrah's "Backdoor" adult movie was released, the show's fans have wondered what Farrah's parents think of Farrah releasing a plethora of adult-themed products. (Who could forget this lovely jewel? Or these?)
In a series of Facebook comments posted earlier this week, Farrah's mom and dad finally revealed their thoughts about Farrah's p0rn, her entrepreneurial drive and even the other girls of 'Teen Mom!'
After a Facebook user commented that Farrah sold her body for money, Michael disagreed.
"I'll share this FACT with you ….Legally Farrah has NOT sold her body," Michael wrote. "Yes you have your right to your opinion but you're wrong. Honestly I can't wait for you to see how I feel about this topic… You and the world will have to stay tuned and I hope you do!"
When a commenter remarked that Farrah was more concerned about making money and promoting her products than taking care of her daughter, Sophia, Michael had a comeback for that as well.
"Regarding supporting her child but I'll share this with you 'it's not easy money' the time spent, travel, business management etc. that Farrah puts in is like 12 hours a day working on her projects and education," Michael wrote. "But she is also able to take time off most parents can't to be with Sophia during the week etc." (Clearly Farrah isn't spending too many of those 12 hours working on this project. Four months after it was supposed to be opened, Farrah has barely mentioned it.)
Farrah's mom, Debra, said she is proud of her daughter. In fact, she claims, Farrah is good for the economy!
"I am proud of my daughter and family," Debra commented. "Farrah is a business woman who works some days 12 to 14 hours. She isn't out of control or doing crazy things, rather she is contributing to the new economy."
While Michael admitted his daughter has faults, he pointed out that the other girls featured on 'Teen Mom' aren't exactly saints themselves.
"The other 'Teen Moms' are not perfect," Michael wrote. "Currently one just had a child out of wedlock [He's referring to Catelynn]… Another just got pregnant with a boy friend out of wedlock [Maci]… There is nothing illegal doing a adult video and Farrah is NOT filming any more. Farrah not perfect but she is a successful business woman…"
Sorry 'Backdoor' fans…you'll have to settle for watching one of Farrah's two adult films if you want to get your Farrah fanny fix.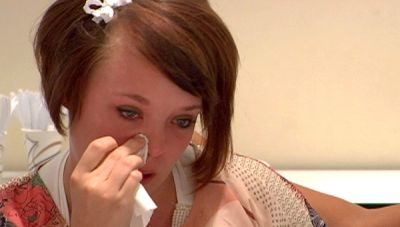 Eventually, Michael's comments made their way back to Tyler Baltierra, Catelynn's fiance (and the father of the "child out of wedlock" that Michael was referring to). Needless to say, Tyler was none too thrilled to hear what Michael had said.
"Well clearly you can tell by Michael's parenting job, marriage does not raise well rounded children lol #Nuffsaid," Tyler tweeted earlier this week in response to Michael's comments about him and Catelynn.
According to Lauren Dolgen, the show's creator, the new season of 'Teen Mom' will also feature scenes in which the other girls talk about their unhappiness over Farrah being allowed back on the show. The Ashley is counting the minutes until March 23!
Wanna read The Ashley's exclusive interview with Farrah's mom, Debra? Click here!
(Photos: Facebook, MTV)