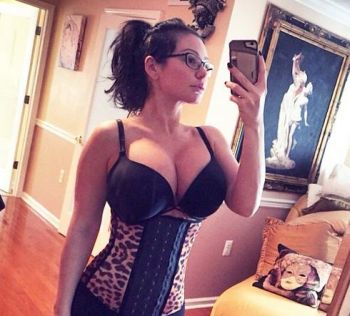 By Holly Rasmussen

Jenni 'JWoww' Farley has never been one to shy away from talking about her personal life—or her boobs! The Jersey Shore and Snooki & JWoww star made some jaws drop when she posted a photo of herself in a corset waist cincher to her Instagram account last week. In the photo, Jenni's funbags looked huge, even by JWoww standards.
The reality star recently admitted that her funbags, are, indeed, bigger than ever before. Earlier this month, Jenni opened up to Access Hollywood's Holly Robinson Peete about recently getting a second boob job.
Jenni told Holly that after the birth of her daughter, Meilani, she decided to go under the knife for a second time to have her breasts enlarged.
"They're the same size, I just kind of switched them out from breastfeeding," the 'Jersey Shore' alum said. Never one to hold her tongue either, JWoww's famous best friend Nicole "Snooki" Polizzi joked, "She wants to look like a p0rn star!"
Jenni said in actuality, she just wants to feel confident in her body and would encourage her young daughter to do whatever made her feel confident, when she's old enough, of course.
"I want my daughter to have self-confidence," Jenni recently told TooFab. "I want her to be secure. If she has a problem with her nose or her boobs, or if there's something she would really like to fix that would improve her self-confidence, why not?"
Jenni received her first boob job on her 21st birthday and said that, while she's not opposed to having more surgeries, she would be wary of having anything done to her face.
"I don't like touching my face only because I'm always scared you can never go back," she told People last year. "All those nose jobs and cheek implants and stuff like that, people get those and can never go back to what they were. I love my nose."
Fans have been speculating for years that Jenni had plastic surgery to her face (or at least used some sort of fillers). The reality star, who does, indeed, look totally different now than she did when 'Jersey Shore' began, has denied the rumors, stating that she has simply started doing her makeup differently. Mmm-hmm.
(Photo: Instagram)