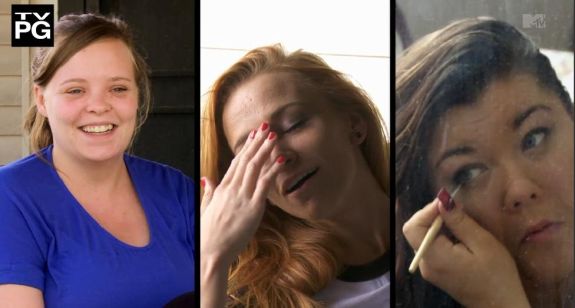 By Holly Rasmussen
It's been more than two years since we've had a new season with the Teen Moms who started it all: Maci, Catelynn, Amber and Farrah. To prepare for the upcoming fifth season of the show, which premieres on March 23, MTV released the first trailer for Teen Mom: OG (Original Girls) today and boy is it a doozy! Here are the Top 5 things we learned while watching it:
Everyone is pregnant. Maci and Catelynn are both pregnant and Gary has knocked up his new girlfriend. Why weren't they all using Gary's own brand of condoms?
Amber claims Gary doesn't want his new child. Uh-Oh.
 Ryan is still a sucky dad. "I'm not gonna have my son be ignored," Maci drawls.
Amber's new man proposes to her. Let's hope it's not another $24 Wal-Mart ring.
Farrah is back and all of the other cast members are not happy about it. We will get to see their reactions when they find out Farrah (and her backdoor) are back on the show. (More on in a later post…)
It looks like this season may turn out to be the best one yet. As you may know, this time the cast will be "breaking the fourth wall." Previously, the cast had to go about their daily lives pretending the cameras weren't there. This season, we will actually get to see the cast interacting with the crew and we will get a closer look of what goes into making the show happen. Get ready because all of the Farrah-ugly-crying, fighting and pregnancy test-taking starts on March 23 on MTV!
Watch the full trailer below: