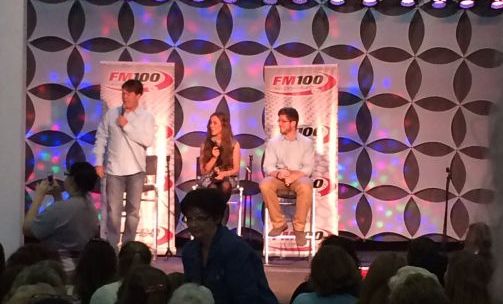 Note from The Ashley: Jessa is currently "on tour" with the Southern Women's Show, roaming around the Southern United States giving people advice on marriage, relationships and how to live with a giant litter of siblings. Of course, The Ashley had to know what Jessa was going to say, so she sent The Roundup's Duggar specialist, Holly, into the field to attend Jessa Duggar's speech/Q&A session, held today in Memphis, Tennessee.  Holly was in the crowd to capture all of the awkwardness, and listen to what Jessa had to say. Here's her account:
By Holly Rasmussen
Today, I met a Duggar and checked another thing off my bucket list. As we previously reported, Jessa Duggar Seewald (or resting bitch face Duggar, as she's better known to some) has been traveling all around the South speaking at a series of "Southern Women Shows" events. Well, today she came to my city and I, of course, was in attendance.
I arrived at the event (which was held in an agricultural center-of course. There were literally horses outside) an hour early and the place was PACKED. Seriously. Standing room only and even that was scarce. The crowd seemed to be made up of older women in their sixties and young moms in their thirties with small children.
Jessa obviously didn't pick the soundtrack for the speech, because they were playing songs like 'Brickhouse' by The Commodores. (A tune about a well-endowed woman would certainly not be appropriate for Duggar ears to hear by choice!)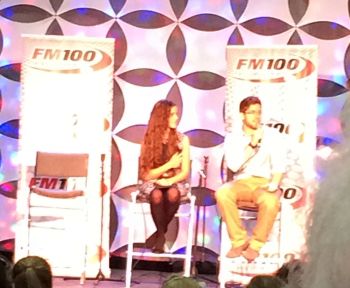 Finally, the moderator comes on stage and says, "Hey everyone. Ben is here!" and the crowd goes wild. Ummm…?
Anyway, the new couple comes out (holding hands of course) and I am shocked. Jessa is wearing a sleeveless, body hugging dress and sheer black panty hose. This is a far cry from the denim jumpers they started out wearing in their original TLC specials. They sit down and kiss, of course, and the crowd cheers. So awkward. Then, it gets even more awkward. The moderator asks the crowd to turn to the person next to them and give them a side hug.
Seriously.
Now, down to business. I was under the impression Jessa was going to give a speech, but that's not how it went down. Basically, the moderator just asked her and Ben questions. The questions were pretty bland. The moderator asked them things like, did you see another side to each other once you were married?  Jessa said Ben is 20 times more loving, caring and passionate than she thought he would be. Barf. Ben said Jessa is even more organized than he thought.
Nineteen-year-old man-child Ben also told us that getting married "makes you mature more." Sure it does, Ben. Sure it does.
One thing I found interesting was the story of how they met. They said they met when they were little attending the same church, but they don't remember it. They met again a few years ago when Ben and his family visited Jessa's church when they were in town for a sporting event. Ben apparently had eyes on Jessa from the very beginning. Then, he started making excuses to come back to church to see her. Finally after a while, Jessa said one of her sisters told her she thought Ben liked her. Of course, Ben said he had to befriend her father and brothers first, then he asked about courting Jessa. (I mean, why would a woman over the age of 18 be able to decide on her own whom she wants to date? That's just crazy!)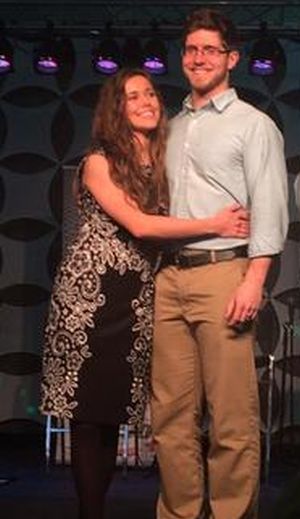 Jessa spoke about how she and Jill are updating their book, Growing Up Duggar with more information about marriage and families. I was really surprised about how much genuine affection there seemed to be between Ben and Jessa. On the show, she kind of acts annoyed, but in person she seemed to genuinely be into him. Also, he didn't seem as derpy and clueless in person. Maybe that's just the editing. After only about 10 to 15 minutes of talking with the moderator, they took questions from the crowd.
Honestly? This part sucked. About 90 percent of the people they took questions from were under 10 years old, which prevented people from asking them any sort of  interesting questions. Here's a summary of what was asked:
Why did you use unity sand at your wedding? (Seriously?!)
Because they liked it.
What's it like being on TV?
"Sometimes it's like being in a fish bowl,"  Jessa said.
When do you think you'll have kids?
"Hopefully really soon," Ben said, in a weird tone that makes me wonder if she might be pregnant already. "And we also hope to adopt," Jessa added.
Do you want to adopt internationally or locally?
Ben said they'd like to do both.
"Yes, we see a need in our own community and would like to start there, but we want to adopt a lot of kids so hopefully both," Jessa said.
What was your favorite part of the wedding? –
Although Jessa said the vows were her favorite part, she also revealed that she and Ben actually stole their unique vows. She didn't want the traditional ones and she liked the vows at her friend's wedding, so they just took those and tweaked them.
Did the guests know you weren't going to kiss at your wedding? (They left the chapel to share their first kiss in private and then came back)
The couple claimed that the guests didn't know but their families did.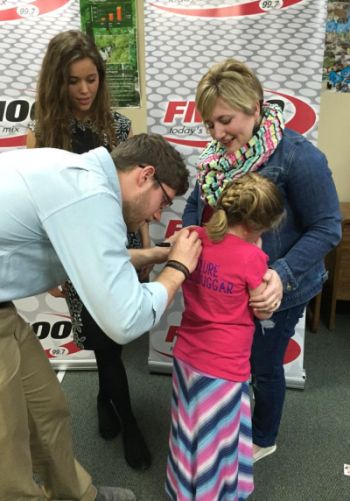 What do you cook for Ben?
"I cook hot meals occasionally for dinner," Jessa said. "But most of the time we just have Greek yogurt and granola for breakfast and lunch almost every day. (No wonder they're both so skinny!)
"Yeah, 19 grams of protein!" Ben added. (Oh, there's the derpy Ben we've been missing.)
What was the best moment of your life?
Jessa hesitated, as if she was trying to cook up the "right" answer, so Ben answered first.
"When I realized Christ has forgiven me for all my sins is first and meeting Jessa is second," he said.
"Yeah, I was gonna say that," Jessa said.
And, that's all folks. They didn't call on anyone who looked like they might have an interesting question. I wanted to ask if the rumor I'd heard about my favorite Duggar, sister Jana, is really breaking out to go to college, but they didn't happened. All in all, they didn't really tell us anything I didn't already know, but I was surprised at a few things. It seems Jessa may be breaking out a tiny bit from under Jim Bob's thumb. That dress definitely was a break out.
(Photos: Holly Rasmussen, Twitter.com/Aislinn_Towne13, Twitter.com/FM100Memphis