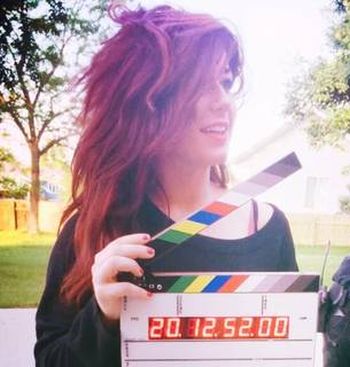 The new season of Teen Mom is in full swing, and fans seem to be responding well to the show's new format in which the producers and camera crew are acknowledged and shown interacting with the stars of the show. The new format is proving to be so successful that the producers will be incorporating it into the next season of Teen Mom 2, which is currently being filmed!
The Ashley can exclusively reveal that the "fourth wall" will be broken on 'Teen Mom 2' Season 6, at least to some degree!
Multiple show sources have confirmed to The Ashley that we will be seeing Jenelle Evans, Kail Lowry, Chelsea Houska and Leah Calvert interacting with the crew, but it is not yet known to what degree.
"They haven't broken the fourth wall completely but they are going to see if they can," one show source tells The Ashley. The source added that it would be difficult to go back to the show's old format, now that everyone knows what filming is like, thanks to 'Teen Mom.'
Another show source tells The Ashley that producers and camera crews will be shown "to some extent," although it will likely be more prevalent in some girls' storylines, and take a lesser role in others'.
It is almost certain that the 'Teen Mom 2' crew will play a role in Jenelle's storyline. After all, it was a crew member that made the 911 call on the day Jenelle's fiance/baby-daddy/thing, Nathan Griffith, was arrested. That entire incident was filmed by an MTV camera crew and will be shown.
Season 6 has been filming for a few months now and from what The Ashley hears, it will be a doozy! Not only will Jenelle and Nathan's dramatic proposal/breakup/makeup/fight on the toilet be covered, but Leah and Jeremy's drama will also be addressed! Kail's trip to the Grammy Awards will be shown, as will Chelsea's relationship with her current boyfriend, Cole DeBoer.
The Ashley will keep you posted and will update will more details become available.
(Photo: Instagram)