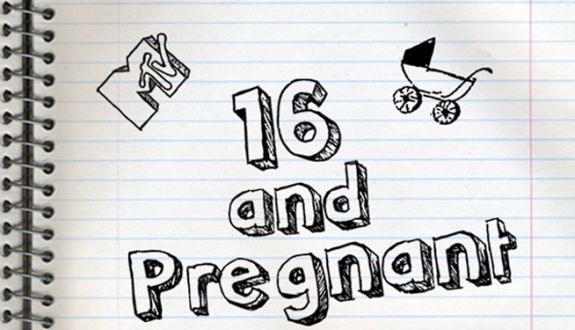 By Holly Rasmussen
The next season of MTV's 16 and Pregnant may be the craziest one yet!  Starcasm is reporting that the upcoming sixth season will feature an 18-year-old who found out she was expecting quadruplets. The young mom, who hails from Texas, first found out she was expecting triplets in February. Then in March, the teen (who is a twin herself) went to a doctor's appointment, where a fourth heartbeat was confirmed.
However, tragedy soon struck. Starcasm is reporting that since that time, the girl has lost two or more of the babies. The website reports that she posted on her Facebook page about the tragic loss. On the social media site she said she lost the babies due to "vanishing twin syndrome." Wikipedia describes a vanishing twin as when, "a fetus in a multi-gestation pregnancy dies in utero and is then partially or completely absorbed by the other twin."
The girl and her boyfriend have been together for a long time, according to Starcasm, and the girl currently lives at her mom's house.
If this girl makes it on the show, it will be the first time a girl featured on '16 and Pregnant' has ever dealt with the loss of a baby. Several other episodes have dealt with the loss of the baby's father, but never a baby itself.
As The Ashley previously told you, the new season of '16 and Pregnant' will follow a same format to MTV's Teen Mom.  Instead of each episode focusing on a different girl, the new season will follow the story of only four girls. They will follow them through their pregnancies, births, and a few months post-birth.
In January, MTV's Programming President Susanne Daniels told The TV Page, "We are retooling '16 and Pregnant.' We have decided to try something new. We find that the 'Teen Mom' ratings build over the course of the season as people get invested. So, we thought, 'Let's just look at that with '16 and Pregnant' and see how it goes."
You just keep pulling us back in don't you, MTV? The air date for the new season has not yet been released by MTV. The Ashley will continue to update you as more info becomes available, including the identity of the other girls.