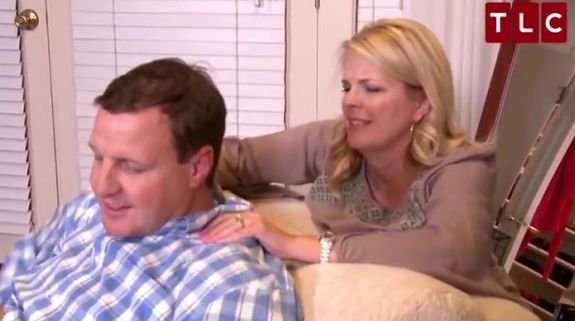 By Holly Rasmussen
The network responsible for 19 Kids and Counting and Sister Wives is at again! This time, however, TLC will take a look into the controversial world of submissive wives with its new special, Submissive Wives' Guide to Marriage.
Yes, you read that right.
The special, which features two couples who are currently in a submissive marriages and a third couple that is thinking about giving it a go to save their marriage, airs tonight.
One of the couples featured, Tim and Tara Furman, have been practicing the submissive lifestyle for years. Tara tells the cameras a woman's job is to, "help her man, serve her man, submit to her man, and sleep with her man."
The cameras also catch Tara giving some advice to Kristin Haywood. Kristin and her husband, Mark, are considering the submissive lifestyle. Tara tells Kristin her love tank is empty and needs to be filled.
"She needs to be having hot sex with her man. That's what that means," Tara says. "That means making sure that his love tank is full. Grab his butt! Be in the kitchen and grab his butt! Girl, you gotta be showing the goods. And you gotta be dressing like the hoochie momma. When you're around your man, talk dirty to him."
This is like the X-rated version of Michelle Duggar's "only you can meet his needs" speech.
Tara tells the camera that "it doesn't matter the way she feels. She has to do it anyway. She has to suck it up and do it anyway."
I'm sure Tara's teenage son is really going to enjoy this special. But, Tara doesn't care. She says submission is one of the greatest gifts that God has given women.
"If you are a strong woman, you can submit to your man," according to Tara.
We don't see much of the other submissive couple, Eddie and Autumn Miles, in the preview. [Probably because TLC knew Tara and her quotes would pull in the viewers.]
This is not the first controversial special that TLC has broadcasted this year. In January, the network's "My Husband is Not Gay" special, which featured Mormon men who were gay but married to women, caused quite a stir.
'Submissive Wives' Guide to Marriage' airs tonight on TLC. Watch the preview for it below: