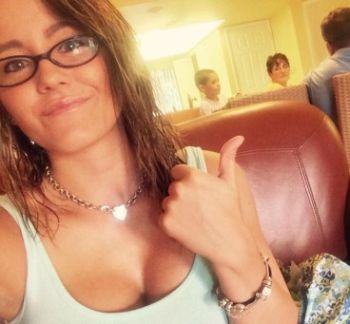 Well, we can say one thing about oft-troubled Teen Mom 2 star Jenelle Evans: She has damn good lawyers.
Jenelle's attorney, Amy Lawrence, confirmed to news station WFLA that the criminal domestic violence charge against Jenelle, which stems from Jenelle's attack on her ex-fiance/baby daddy Nathan Griffith in late May, has been officially dropped.
Jenelle did not attend today's hearing; instead her lawyer represented her in court.  Jenelle turned herself into police on May 28 after a warrant was issued for her arrest.
The warrant was issued a day after Nathan went down to the Myrtle Beach Police Station to file a restraining order against Jenelle, after he claimed she showed up to his house, punched him in the face, damaged his truck and tried to break into his home. Things got even stranger when Jenelle claimed that she only tried to break into Nathan's home because Nathan allegedly stole her phone and wouldn't hand over their son. She also claimed that he ran her over with his truck (as you do), but she later recanted that statement.
Jenelle's attorney told WFLA that the expungement papers (which basically remove the arrest from Jenelle's record) have already been signed, and that Jenelle is "ready to move forward" and graduate from school in a few weeks.
In an interview with the blog Real Mr. Housewife, Jenelle stated that she and Nathan barely speak to each other, even though they are legally allowed to do so.
"There's not a no contact order in place, but we don't speak to each other," she said. "We only speak to each other if we're exchanging Kaiser. We take turns with Kaiser."
Although this most-recent arrest was Jenelle's 15th, she says that she plans to stay out of trouble from now on.
"I think I just learned to actually just stay focused on what is the most important thing in my life right now, which is my future and my goal which is to graduate and to be able to support my kids after this whole MTV thing goes away," she told the blog. ""I want to work in the medical field really badly. I graduate in July and I'm really excited about that."
Although Jenelle has had many, many run-ins with the law in her young life, she has yet to serve any serious jail time. Hopefully Jenelle sends her lawyers, Amy (who handles her South Carolina legal issues) and Dustin Sullivan (who handles her legal problems in North Carolina) a big box of candy after every hearing!