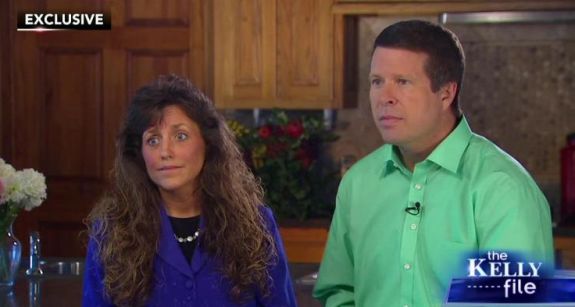 The Ashley has watched Megyn Kelly's interview with Jim Bob and Michelle Duggar multiple times since it first aired on Wednesday. The Duggar parents sat down with Megyn to discuss the sex abuse scandal involving their oldest son, Josh Duggar, for the very first time. Many of you Roundupers have asked The Ashley to recap the interview; however, The Ashley didn't feel that a funny recap would be appropriate, given the serious nature of what the interview discussed.
However, The Ashley did find many of the things that Jim Bob and Michelle said strange and, in some cases, completely untrue, so she wanted to address some of those things for those of you who couldn't watch the interview.
Warning: This post contains The Ashley's personal thoughts on many of things that the Duggar parents stated during their interview. If you aren't OK with that, you probably shouldn't read what follows. This is NOT an attempt to simply cherry-pick quotes to make the Duggars look bad; these are quotes that stood out during the interview for being odd or disturbing to The Ashley.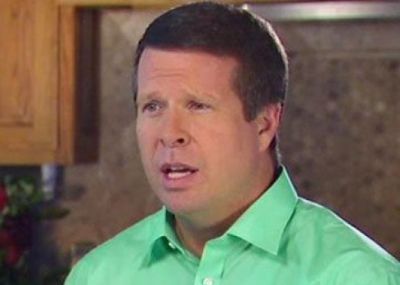 1. "He said he was just curious about girls, and he had gone in and basically just touched them over their clothes while they were sleeping." -Jim Bob
While it's natural for teenaged boys to be curious about girls–especially teen boys who are basically kept isolated from most other teens–this was not a one time thing. Josh continued to do this, even after trying hard to stop the behavior. Jim Bob's attempt to minimize his son's actions as "teenage curiosity" fails miserably.
2. "We've talked to other parents and different ones since then, a lot of families since said that they've had similar things happen in their families." -Jim Bob
The Ashley finds this disturbing. Just because this type of sibling sexual misconduct is going on in the families that the Duggars know, that doesn't make it OK. It almost seems that Jim Bob is trying to say, "We aren't the only ones!" Yikes.
3. "This was not rape or anything like that. This was like touching over the clothes. There were a couple instances where he touched someone under the clothes, but for like a few seconds." -Jim Bob
While The Ashley thinks that it was important for Jim Bob to stress that the girls were not raped (as some people are interrupting), his attempt to make light of the fact that his son put his hand up his five-year-old sister's dress to touch her sexually is troubling. It doesn't matter how many seconds he did it.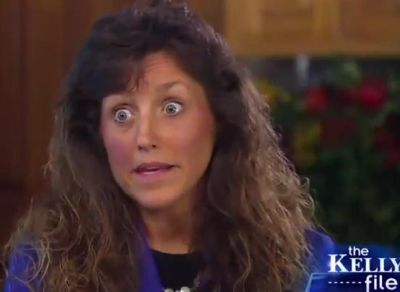 4. "To them they probably didn't even understand that it was an improper touch." -Michelle says of her daughters
Stating that these girls didn't know that their brother putting his hands on their private parts was wrong is just ridiculous. These girls are taught to be super protective of their purity and private parts. They aren't even allowed to hold hands with a boy unless they are engaged! Because of the strict rules regarding courting the girls were raised with, they would be even more aware that the kind of touching Josh was doing was bad, compared to the average pre-teen girl.
5. "As parents we still loved Josh and we love our…other ones." -Jim Bob
Hey— when you have 19 kids, it's hard to remember all of their names…especially if they are just the girls.
6. When asked about Michelle's robocall regarding transgender people: "I think you actually said pedophile in that, and actually a pedophile is an adult that preys on children. Joshua was actually 14 and just turned 15 when he did what he did. And I think that the legal definition is 16 and up for being an adult preying on a child. So he was a child preying on a child." -Jim Bob
It doesn't matter what the legal definition of a pedophile is, because Michelle never said 'pedophile' in her call last summer. She actually said 'child predator' when referring to transgender people. So Jim Bob's argument is irrelevant. Michelle accused transgender men of having "child predator convictions," all while her son was, indeed, a child predator. Another direct quote from Michelle's call: "[This] law would endanger their daughters or allow them to be traumatized by a man joining them in their private space."
Yet, Michelle's daughters were undoubtedly "traumatized" by Josh joining them in their private space (bedroom) and touching them.
7.  "I know that every one of us have done things wrong. That's why Jesus came!" -Michelle Duggar

This was disturbing simply due to the creepy faces Michelle was making while stating this. She got some major crazy-eyes. (Click here to see!)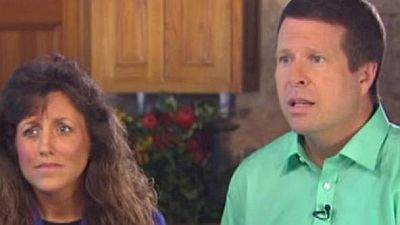 8. "I don't know if the rest of our family should be punished for the act of one of our children." -Jim Bob
Jim Bob fails to realize that many people don't want to watch '19 Kids and Counting' anymore because of this scandal, and because the Duggar parents knew about this abuse and allowed it to keep happening for months and months. TLC is not "punishing" the family; they are trying to decide if they can get enough viewers to watch this show post-scandal to make it worth continuing.
9. "This information was released illegally, so I wonder why all this press is not going after the system for releasing juvenile records. That's a huge story!" -Jim Bob
We media folk aren't writing that the records were released illegally because they weren't. The record wasn't sealed because it wasn't made until 2006. By that time Josh was 18 and an adult, and the record didn't have to be sealed. The magazine obtained the records legally via the Freedom of Information Act. Anybody else could have obtained that report just as easily and legally. Had a police report been made back in 2002-2003 when the crimes first occurred, then it would have been sealed because Josh was a minor at that time.
(For the record, The Ashley does not agree with In Touch magazine's decision to print the police report with the facts that identify Josh's victims as his sisters to be visible. She feels that, while legal, that was morally wrong to do.)
10. "We want to be an advocate for protecting juvenile records." -Jim Bob
That's great and all but…too bad you weren't an advocate for juveniles– your own daughters– who were being abused.
Watch Megyn Kelly's entire interview with Jim Bob and Michelle here:
Don't forget– the interview featuring two of Josh's sisters, Jessa Seewald and Jill Dillard, airs tonight on The Kelly File!
To read all of The Ashley's coverage of the Josh Duggar sex abuse scandal, click here.