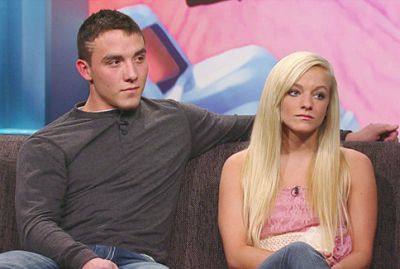 A few months ago, Mackenzie Douthit's "friend" (otherwise known as Mackenzie or her manager) leaked a story to TMZ that stated that the Teen Mom 3 star's nearly-two-year marriage to Josh McKee was down the toilet– literally!
The story claimed that Josh had flushed Mackenzie's wedding ring down the commode and had left her. However, just a few weeks later, Mackenzie and Josh were posing together for photos on her Instagram account, leaving fans to wonder what the hell was going on.
Mackenzie recently opened up to WetPaint about her marriage, letting them know that Josh did, indeed, leave her.
"It got pretty bad and he did leave for a while, and we decided that we were going to get a divorce and separate," Mackenzie told the site.
The couple, who has been on-and-off-again for years (even calling off their August 2013 wedding twice), decided to give their relationship another try, however.
"He went and stayed somewhere else, and we just decided that we don't want to live without each other, and he came back, and he said, 'I'm sorry,'" Mackenzie said. "But I can't put all the blame on him or all the blame on me because we just could not get along for the life of us."
While Mackenzie claims things are better now between her and Josh, it sounds like he still has some anger issues to work out, judging by this quote.
"Marriage is always a work in progress and sometimes it will get perfect, and then a door will slam in my face and it will get bad again, and we won't agree on stuff, or whatever," she said. "But I don't know, I don't feel like I could ever live without him. If he leaves it's really going to hurt me."
As The Ashley told you, Mackenzie and Josh appeared to be in the running to appear on an upcoming season of Couples Therapy; however they did not make the cut (yet). They are not listed as part of the Season 6 cast.
If anyone needs 'Couples Therapy,' it's these two! Paging Dr. Jenn!