By Holly Rasmussen
Mama June Shannon of the former TLC hit Here Comes Honey Boo Boo is getting honey sue sued!
June's daughter, Anna Cardwell, has announced that she is suing her mother. As The Ashley previously reported, a feud erupted between the mom and daughter when it came to light that June had been spending time with the man convicted of molesting Anna while she was a child.
Things between June and Anna have gotten worse since that time. Anna is now claiming that June is withholding the money Anna made from appearing on the show.
The lawsuit which names June and "Honey Boo Boo LLC" (whatever that is), states that Anna is owed $201,000 for her appearances on the TLC reality show and that Anna's 2-year-old daughter, Kaitlyn, is owed over $100,000 for her appearances. 
According to TMZ the family was paid $22,500 per episode and one third of that was to be divided between June's four daughters: Anna, Alana "Honey Boo Boo" Thompson, Lauryn "Pumpkin" Shannon and Jessica "Chubbs" Shannon.
TLC has not made a comment on the matter, but June has. June claims that TLC deposited the money directly into the kids' bank accounts and that she never saw any of it. She also claims that she wrote Anna a check for over $15,000 when the show was canceled.
So, what brought all of this out right now? According to June, it's Anna's grandmother Sandra Hale (or as June calls her "my money-hungry bitch of a mom") who is behind the lawsuit.
June told TMZ that she has text messages from Anna saying her grandmother and grandmother's boyfriend are behind the suit and that she hasn't been involved.
The fact that the Shannon family is squabbling over money is strange, given that, in 2013, June told TMZ that she was saving all of the family's TLC earnings for her daughters and granddaughter.
"I want my kids to look back and say, 'Momma played it smart. Not like those other reality TV people,'" June said.
Oh, June if only you would have been playing it smart and not hanging out with a convicted child molester, you'd still have a show.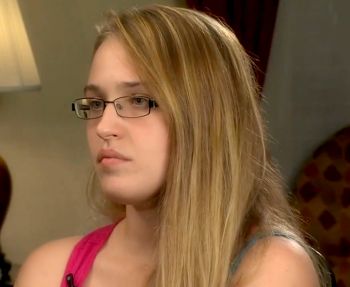 Anyways, June also told TMZ in 2013 that TLC puts the money directly into accounts for the girls and they will have access it to when they turn 21.
"You're never gonna see me living above my means," June said back then.
At the time of the interview, June was still in a relationship with "Sugar Bear" and they were living off of his salary as a contractor.
Oh, how things have changed….
In April, Anna and June battled via social media when Anna announced that she was pregnant with her second child. June publicly stated that she felt 20-year-old Anna and her husband Michael were too young to have another baby.
This time around, however, Anna and June have been uncharacteristically silent about the lawsuit on their social media accounts.
(Photos: TLC, ET)