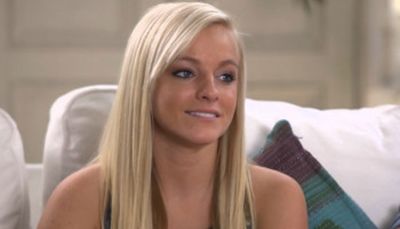 Mackenzie McKee has come forward with some heartbreaking news. The former Teen Mom 3 star recently admitted to WetPaint that she suffered a miscarriage following the February 2014 birth of her daughter, Jaxie. Mackenzie, who is also mom to three-year-old Gannon, suffers from Type 1 diabetes and has had difficulties in all of her pregnancies.
"After Jaxie, I got pregnant again and lost the baby," Mackenzie told Wetpaint. "That has been really emotionally hard on me because I felt like it was my fault … but my doctor said it wasn't my fault. It's hard not to blame myself, but if I could take away this pain, then I think we would have more."
Mackenzie recently wrote a blog post about the depression she felt over the last few years, but up until now didn't mention the miscarriage that took place during this time.
"I feel like it makes me stronger to talk about things instead of keeping it [in]," she added.
This was not the first time Mackenzie suffered a miscarriage. As The Ashley told you previously, Mackenzie had a pregnancy before she appeared on 16 and Pregnant and gave birth to Gannon. The 2010 pregnancy, unfortunately, ended in a late-term miscarriage. Mackenzie once revealed on her private Facebook page that she and her now-husband Josh had planned to name the baby boy Oakley.
MTV made no mention during Mackenzie's '16 and Pregnant' episode that she had been pregnant once before.
Now 20 years old and having gone through two full-term pregnancies and two miscarriages, Mackenzie is not sure her body can handle the stress of another pregnancy. She has said that she and Josh would like to have more children, though.
"I'm just so scared to try and get pregnant again and lose another baby," Mackenzie told WetPaint. "It's really emotionally bad."
(Photo: MTV)