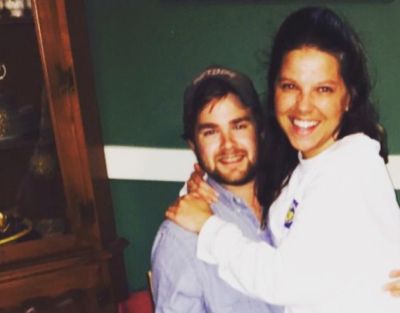 Get ready for another Duggar wedding! Yet another one of the extra-large family's females is getting hitched.
Cousin Amy Duggar, who made frequently appearances on her family's reality show, 19 Kids and Counting, announced yesterday that she had accepted a proposal from her boyfriend of eight months, Dillon King.
"I'm so happy to announce…WE ARE ENGAGED!!!!" Amy wrote in the caption of a photo posted to her Instagram account yesterday. "He loves the Lord, he makes me laugh uncontrollably, he's loyal, he's patient, he's my best friend! Of course I said yes!! l love you so much! @kingdillpickle #DillandDuggsforever."
Dillon also posted about the proposal on his Instagram.
"Well everyone…WE ARE ENGAGED!!!! @amyduggar I asked you to be my fiancee not just because I love you right now. I got down on one knee because you are the only woman I have and will truly love forever.!!! Xoxo."
Christie Bates hosted a party for the newly engaged couple yesterday.
Amy's Uncle Jim Bob Duggar and Aunt Michelle posted a congratulatory message to the couple on their website.
"We are so excited for our niece Amy Duggar and Dillon King on getting engaged," they wrote. "We tell every couple that as a husband and wife individually draw close to God, they will draw close to each other. We love Amy and Dillon and pray that God will continue to bless your relationship as you put Him first in your lives! -Uncle Jim Bob and Aunt Michelle"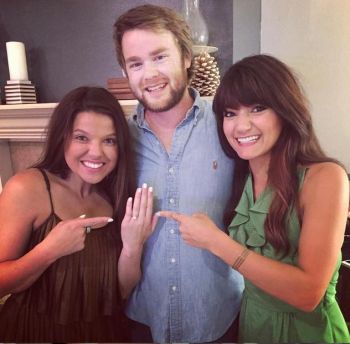 At 28, Amy is quite the "old maid," by Duggar standards. Her cousins Jill and Jessa Duggar got married at age 23 and 21, respectively, and quickly became pregnant soon after their weddings. Although Amy was frequently seen on her very conservative family's reality show, she does not abide by their courting, dating and modesty rules.
In fact, she recently slammed her cousins Jill and Jessa for marrying the first guys that came along, and waiting until their weddings days to get their first kisses.
"I can't even imagine courting like that," Amy told Radar Online. "It works for them, and I hope to God they have successful relationships…But what if they suck at kissing? I can't imagine not kissing to full blown 'let's do it all' in 30 seconds!"
Even still, Jessa posted a congratulatory message to Amy via Instagram.
"Congrats to my cousin Amy on her engagement!" Jessa wrote. "You and Dillon are perfect for each other! Love you both, and look forward to seeing how God uses the two of you together!"
Amy has not yet indicated when or where her wedding will take place. Had the engagement taken place before the Josh Duggar sex abuse scandal broke in May, TLC may have done a complete wedding episode starring Amy and Dillon. However, now that the Duggar family's reality show is in a (permanent?) limbo, it is very unlikely that Amy's wedding will be filmed for '19 Kids and Counting.'
(Photos: Instagram)