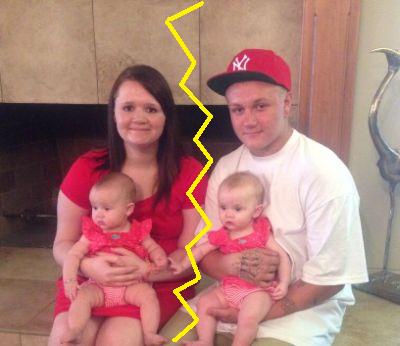 By Holly Rasmussen
Prepare to be shocked: Another marriage from MTV's 16 and Pregnant has bit the dust.
Karley Shipley of the show's recent fifth season took to her Ask.fm account recently to answer questions about her marriage. The mom of twin girls, Amariah and Amayah, told fans that she has split with her husband of two years (and father of her kids)Tony.
"Are you and Tony together?" one fan asked. "No lol," Karley replied.
If this all sounds familiar that is because it has happened before. Karley revealed in October of last year that she and Tony had separated.
"I'll always love Tony more than anything and we'll always be friends, but maybe that's it," she wrote in October. She also indicated at that time that the couple was on good terms. "We'll still be doing things as a family and we'll still spend plenty of time together."
The couple eventually reconciled, but apparently, they couldn't make things work for very long.
Karley told a fan this week that she and Tony still live together even though they aren't currently together.
"He goes to work while I take care of the girls,"  she said.
Karley hinted on Twitter that her split with Tony was caused, in part, by his (alleged) cheating.
Even though fans have commented on Ask.fm asking for the full story it doesn't seem Karley is ready to talk about it. When asked she answered, 'Who even cares" and "It doesn't even matter."
If Karley and Tony do get divorced, they will be added to the long list of '16 and Pregnant' married couples who have split. To date only four girls who married their baby's father on '16 and Pregnant' are still married: Summer Rewis of Season 5, Jordan Ward of Season 3 (get a recent update on her here), Myranda Trevino of Season 4 and Mackenzie McKee of Season 4 (although she tweeted recently that Josh left her because of an alleged sex tape.) The rest of the '16 and Pregnant' marriages have ended in divorce.
To read The Ashley's recap of Karley's episode of '16 and Pregnant,' click here!