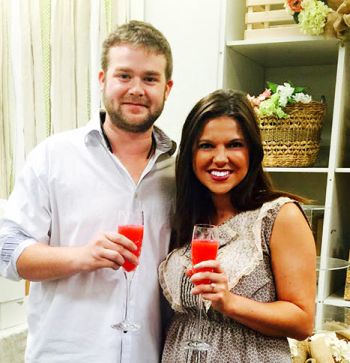 By Holly Rasmussen
Another Duggar wedding is on its way…and this time, the bride and groom are hoping 19 Kids and Counting fans will get out their pocketbooks to help pay for it!
Amy Duggar, niece of Duggar family patriarch, Jim Bob, will marry her fiancé, Dillon King on September 6 in Bentonville, Arkansas, according to her Dillards bridal registry. The aspiring country music star made many appearances on '19 Kids and Counting' before the network decided to pull the show in the wake of Josh Duggar's molestation admission.
In true Duggar fashion, Amy is asking for fans to fund her big day. First (when she found out her wedding wasn't going to be broadcast on TLC) she and fiancé, Dillon King, let fans know they had set up a P.O. Box where they could receive "cards and etc." (We know that "etc." actually means "checks and gifts!"). More recently, she bragged to People magazine that she was able to get her wedding dress for free too!
"When I walked into the bridal shop, they recognized me and surprised me with a dress for free," Amy said of She Said Yes Bridal Boutique in Rogers, Arkansas. "They're the sweetest."
Amy's plea for gifts and freebies earned her and Dillon some shaming by her followers.  In her interview with People, Amy stated that she is so blessed she doesn't even need the handouts. (But keep them coming.)
"I don't consider myself a celebrity by any means. I still shop at Goodwill," she said. "But it's like, no offense, we don't really need the help. We're blessed."
While the wedding won't be nearly as buttoned-up as the 2014 weddings of Amy's cousins, Jill and Jessa, Amy said she still expects the whole Duggar family to be there. In fact, Josh's daughter Mackenzie and Duggar daughters Jordan, Josie, Jennifer and Johanna will be holding signs that say, "The bride is coming!" and ringing bells during the ceremony, according to Amy. No word yet on whether Jim Bob will get an opportunity to speak and make it all about him, as per usual.
Amy said the wedding will not be what most people expect.
"It's not your traditional wedding by any means," she said. "There won't be a lot of flowers; It's going to be rose-gold and candlelight and not in a church."
Will Jim Bob even recognize a wedding that's not in a church?! Oh pants-wearing Cousin Amy, you always have to give ol' Uncle Jim Bob a heart attack.
Amy also cozied up to her fiancé during a risque (for Duggars anyway) engagement photo shoot. Amy and Dillon are seen kissing, fighting in the mud, and even baring a little skin. No side hugs here!
"It was kind of, not scandalous, but a little less what you'd expect from a Duggar," she said.
While she definitely embraces her role of the "rebel Duggar,' Amy said she still turns to her uncle and aunt for relationship advice.
"I've got an upcoming double date with my Uncle Jim Bob and Michelle," she said. "They've been married for 31 years, so we want a little bit of their advice."
Since Cousin Josh's molestation scandal stopped the Duggar family gravy train and got their show cancelled, we won't get to see Amy's wedding on television. But, if you send her money she promises to send a handwritten thank-you card, so there's that.
Amy and Dillon announced their engagement in July.
Wanna see their wedding registry? Of course you do!
(Photo: Instagram)