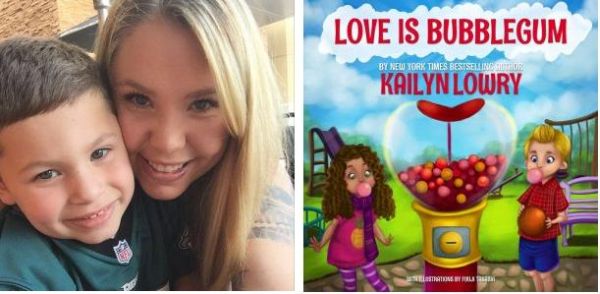 UPDATE (November 17): Kail's book has been released! Click the link at the bottom of this post to purchase Love Is Bubblegum on Amazon!
Teen Mom 2 star Kail Lowry is about to release her second book. While her first book, Pride Over Pity, was an autobiography of her turbulent childhood and life before and during her stint on MTV, her latest book, Love is Bubblegum, is meant for the kids. Kail gave The Ashley the details of her new book, and talked about the backlash she's been getting from some 'Teen Mom 2′ fans because of it.
"It's a concept book for kids describing love– what it is, what it looks like, how it feels," Kail told The Ashley exclusively. "I got the idea from [my son] Isaac when he asked me what love was. I didn't know how to explain in simple words for him."
Realizing that she was having a hard time explaining the concept of love to her son, Kail recognized that other parents may be having the same problem.
"I started asking kids in my life what they thought about love," she said, adding that the kids' answers inspired her to put together a book.
"I thought it would be so sweet to hear the definition of love from kids and let the different perspectives come through for them to read in a picture book," she said.
The hardcover book contains quotes from kids aged four to nine talking about what love means to them. Their ideas are illustrated by artist Fuuji Takashi. (Kail's son Isaac is quoted in the book.)
The book is currently available for pre-order on Amazon and the Barnes & Noble website. It will be released on November 17. Kail plans to do a book tour to promote it, likely with Teen Mom OG stars Catelynn Lowell and Tyler Baltierra, who are promoting their book, Conquering Chaos.
Of course, no 'Teen Mom'-related product release could be without controversy. Kail stated that she has gotten some negative feedback from fans already.
"I've gotten so much hate from the way I come off on this season [of 'Teen Mom 2']," she said. "Some people say it's 'ironic' that I would do a children's book on love."
Despite this, Kail said she would love to release more books for kids in the future. (Don't expect her to write any "erotic romance novels" a la Farrah Abraham any time soon, though!)
"I'm really excited about Love is Bubblegum," she said. "I hope the kids are excited to see their vision of love in the book!"
Click below to order Love is Bubblegum!