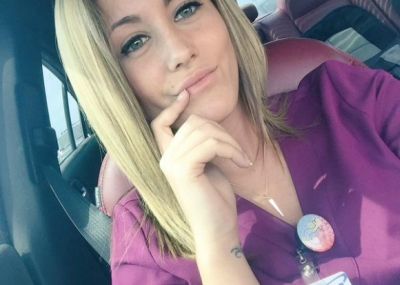 UPDATE #2: Jenelle was released from jail on Friday afternoon on a $500 bond. The charges against her have not been dropped, however.
UPDATE: The Ashley spoke to Jenelle's rep, Johnny Donovan, who provided some more insight as to what happened. Johnny tells The Ashley that Jenelle is still behind bars and will be until tomorrow morning.
The incident between Jenelle, Nathan and his girlfriend went down at about 2:30 p.m. (EST) today, so it's very fresh! It took place at the Myrtle Beach, South Carolina, home that Jenelle and Nathan used to share. Jenelle was moving out of the house today, according to a source.
See below for Johnny's statement on the so-called glass attack!
Well Juh-nelle! We see ya in jail– AGAIN!
It's a story that The Ashley has written many a time: Teen Mom 2 star Jenelle Evans has been arrested (again) for assault (again).
TMZ just broke the story that Jenelle was arrested after allegedly attacking the new girlfriend of Jenelle's ex, Nathan Griffith, with  a glass. (As you do.)
The site reports that Nathan returned to the home he used to share with Jenelle in South Carolina and brought his new galpal, Jessica Henry, with him. That, of course, angered Jenelle and she "came charging out of the house and threw a glass at the girl, striking her in the head," according to TMZ.
The police were called after the glass attack and Jenelle was reportedly arrested for assault.
The Ashley hears that Jessica may have first poured water on Jenelle before Jenelle picked up the glass and hit Jessica with it, but that has not been confirmed yet.
According to Jenelle's rep, Johnny, Nathan got exactly the response he was hoping to get out of Jenelle.
"Nathan provoked her," Johnny told The Ashley. "That's what he does, he tries to make her look bad and he succeeded today. That's pretty much it."
Johnny stated that Jenelle has been working really hard to avoid more drama.
"She's been really focused. She just got a new house in Wilmington, North Carolina," he said. "She's trying to move away from the drama, trying to move away from Nathan. She's been really focused and really positive, and then this happened today."
Johnny couldn't confirm or deny whether Jenelle really did hit Jessica with a glass, as TMZ states.

"I wasn't there," he said. "But I'm sure they had an argument and when you provoke someone, they're not going to hold back and that's it."
The assault was not captured by MTV, as the 'Teen Mom 2' girls have completed filming for Season 6 and are not currently being followed by a camera crew.
For those of you counting at home, this marks approximately 16 arrests for Jenelle in her short adulthood. She's been in jail twice already this year: once in February for driving without a valid license, and again in May for criminal domestic violence stemming from a fight with Nathan. (Both charges were eventually dropped.)
This time, Jenelle is charged with assault in the third degree and is being transported to the Horry County Detention Center where she will have a bond hearing, Horry County's Lt. Raul Denis told local news station WBTW.
No mugshot is available for this arrest yet. The Ashley will post it when it is up!