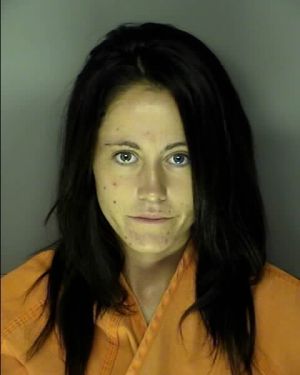 THIS STORY HAS BEEN UPDATED:
Teen Mom 2 star Jenelle Evans Jenelle has been released from jail on a $500 bond after spending the night in a South Carolina jail cell following an arrest yesterday for assaulting Jessica Henry, the girlfriend of Jenelle's ex-fiance, Nathan Griffith..
According to Starcasm, it was Jenelle's ex-boss (and former mortal enemy) James Duffy who got Jenelle out of jail! (Yes, this is the same guy who, years ago, released nude photos he had taken of Jenelle.) James documented his "Jenelle jail break" on his Twitter account and even posted a photo of Jenelle and Nathan's son Kaiser, who apparently came to the courthouse. He had been staying with a friend of Jenelle's while his mom was in jail.

"Yes, [Jenelle] has custody of Kaiser at the moment. There's going to be issues with the exchange now for visitation," James tweeted. "The judge told Jenelle no digital, verbal or physical contact with Jessica."
Jenelle's lawyer, Amy S. Lawrence, spoke to Us Weekly regarding the actual glass-throwing altercation. It was simply a matter of momentum, y'all! 

"It's my understanding that Nathan was asked to come get some of his things and that [Jenelle] would leave them at the end of the driveway so that there would be no need to have interaction between the two of them," Amy told Us. "And Jenelle had requested that he not bring his new girlfriend and he said that's fine."
According to Amy, Jenelle saw Nathan and his girlfriend approaching the house anyway.
"[Jenelle] called him and asked him to please leave and he hung up on her," Amy said. "And then he pulled in the driveway and so she walked out and she had a glass of ice water in her hand, and it's my understanding that he got out and …. had a verbal altercation [with Jenelle]."
Nathan's girlfriend, Jessica, then started to get out of the car which Amy says made Jenelle feel "threatened." Jenelle tossed her ice water at Jessica (as you do), but "the momentum" caused Jenelle to also throw the glass at Jessica.
Following her arrest, Jenelle was taken to Surfside Jail in Myrtle Beach. (Unrelated but, if The Ashley had to go to jail, she'd want to go to Surfside Jail. It sounds so pleasant, no?) Jenelle was later transferred to the J. Reuben Long Detention Center. 
Anyway, Jenelle took a separate mugshot there before taking another one at J. Reuben. In the mugshot (above) from J. Reuben, Jenelle is looking rather, um, rough, with suspicious blotches on her face. (Well, she was recently seen "wif Kieffa" who was her former partner in drug use….)
Anyway, a dispatch officer told Radar Online that Jenelle was "cooperative" throughout her arrest. (She is, of course, an old pro at this stuff, given that this was her 16th arrest!)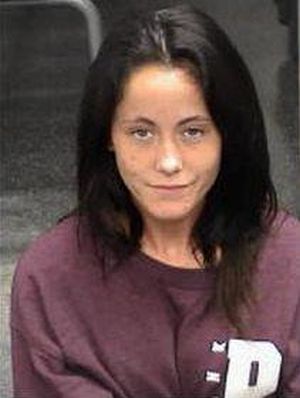 According to the Horry County Sherriff's website, Jenelle was charged with Assault, as well as 3rd Degree Assault & Battery.
Earlier today, Nathan spoke out in an interview with Radar Online, stating that he did not "intentionally provoke" Jenelle.  Nathan also provided the site with the text messages that he and Jenelle exchanged right before Nathan showed up to the show where the incident took place.
(Photos: Horry County)