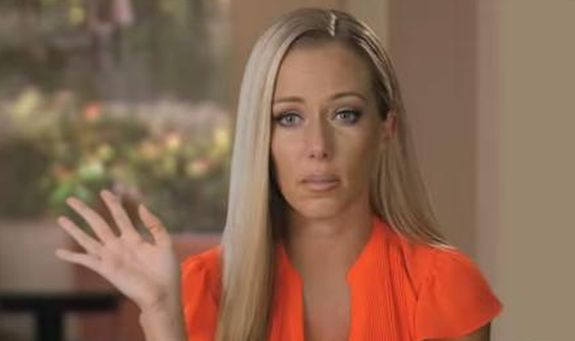 By Holly Rasmussen
Kendra on Top is back! As you may remember, last season it was revealed that Kendra's husband, Hank Basket Jr., allegedly cheated on Kendra with a transsexual model. The entire third season of this show was essentially just Kendra and Hank dragging out the affair, but Hank somehow managed to avoid actually revealing what happened. (They were saving the good stuff for their stint on  Marriage Boot Camp!)
In case you missed it, Hank (FINALLY) gave us a half-ass description of what went down with him and the model. He claims that he met Ava and her friend in a supermarket parking lot and went back to their house to purchase and smoke marijuana. However while at the house, Ava stripped naked and started touching Hank. Hank said he "froze" and didn't know what to do. Hank then said that Ava threatened and blackmailed him. I mean, who hasn't had that happen to them at least once in their life, right?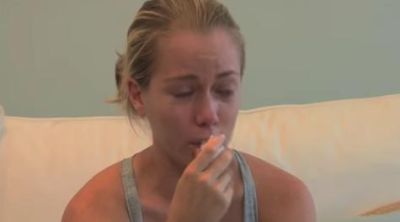 Anyway, this season picks up with Kendra meeting with her therapist to discuss what has happened since then. Kendra said she didn't know how weak her marriage was until this all happened. Kendra told her therapist that Ava deserves to "go to hell a million times."
While talking about the intimacy in her marriage, Kendra reveals to her therapist that she has never been a cuddler or kisser but on their first date she "shoved his face in her crotch." Well, she was straight from the Playboy Mansion so this was probably just business as usual for Kendra.
Next, Kendra heads to London. Hank is working on his business, something to do with online gaming, at home.  Kendra says that the scandal did have an effect on Hank's new business.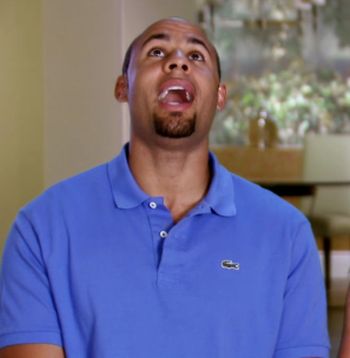 Hank says that if anyone had "any remorse for our kids" they would stop talking about his alleged affair.
W…T…F…!!!
You have chosen to talk about your affair in not one but TWO reality shows, in addition to several magazine "exclusives" and specials. But now that the money has run out and nobody even cares anymore if you boinked the transsexual, you bust out the "think of the children" line?! Come on!
Kendra is going to London with some of the people she worked with on I'm a Celebrity, Get Me Out of Here. (She appeared on the show right after the scandal broke.) While in London, Kendra met up with Jimmy, a soccer player she was friends with while filming the show. Kendra's hotel room is outfitted with a whole trove of sex toys. Because… why not?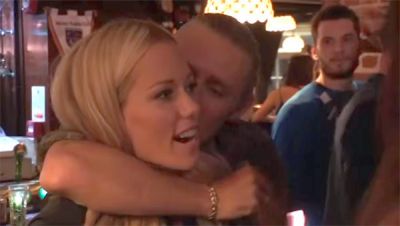 Later, Kendra decides to hit the town with Jimmy. As the drinks start flowing, Kendra and Jimmy start to get really touchy/feely. Kendra said she loves Jimmy, has an emotional attachment to him and that being with him gives her a thrill.
"I guess it's wrong and that's why it feels so right," she says, stealing a line from every romance novel cover every published.
Uh-oh. It looks like Hank is about to get a taste of his own medicine.
"Of course I want to kiss him," she said.
It then cuts to next the morning where Kendra is waking up extremely hung over. Kendra finally drags herself out of bed to appear on the UK show, "Loose Women." Ironic.
While there, Kendra's publicist shows her the morning's news reports that have photographs of Kendra and Jimmy looking like they're kissing. (Nope, this scandal definitely wasn't planned at all, guys! It's not like she had TV cameras following her the whole time or anything….oh, wait….)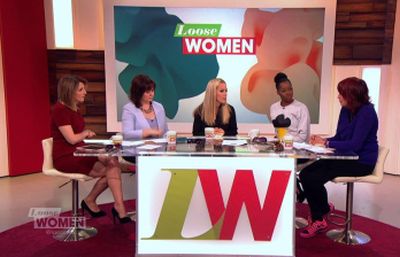 The host of "Loose Women" grilled Kendra on why she left her 2-month-old baby to do 'I'm a Celebrity Get Me Out of Here.'
"You didn't think, 'I just had a baby. Maybe the baby needs me more than a big fat paycheck?'" the host asked.
Oh, burn. "
"Well my baby needs food and that's my job," Kendra replied.
After the show, Kendra goes to meet up with Gemma Collins, who was also on 'I'm a Celebrity Get Me Out of Here.' Kendra describes Gemma, who is also a reality star,  as her twin from the UK. They head to Gemma's store where Kendra tells us, "The only job I've ever had is Papa John's Pizza. After that I stripped and then did Playboy."
That explains a lot, actually. That should make one hell of a resume: Pizza maker, pole dancer and plaything for creepy old men…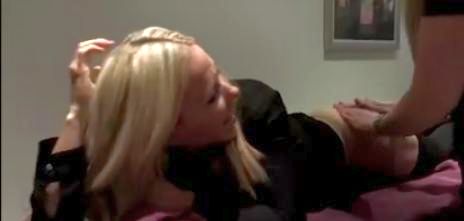 After Kendra's foray into customer service, they decide they need to get vagazzled. Unfortunately, Kendra can't get vagazzled because she didn't shave her pubic area. So, she decides to get diamond lips on her butt. Just an average day in the life of Kendra Wilkinson.
Also….ew….
Next, we get a scene of Kendra in the bathtub talking to Hank about her night out with Jimmy. Kendra said she didn't actually kiss Jimmy. She said it was a bad camera angle. Hank is pissed and says that's a double standard.
The promo for next week tells us that Kendra's London adventure continues with "so many men." So, they're definitely going to play up this whole "Will she cheat on Hank?" storyline because, who would watch this show if someone wasn't cheating on someone else?
(Photo: WEtv)