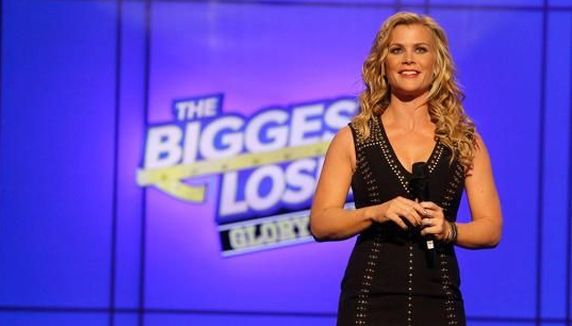 The Biggest Loser has lost one of its longtime cast members!
Access Hollywood broke the news today that Alison Sweeney, who has hosted the weight loss reality show since 2007 has left the show, and NBC later confirmed her departure in a statement.
"After an incredible run together, Alison Sweeney will not be returning as host of 'The Biggest Loser' next season," the statement read.
This appears to be a very new development. Just a few weeks ago, The Ashley overheard Alison chatting about the upcoming season of 'Loser' with reporters at a TCA party, where she also discussed her Hallmark Channel acting career. At the time, Alison gave no indication that she would not return for the show's upcoming 17th season.
The cast took a longer-than-usual hiatus in between seasons following last season. Normally, 'The Biggest Loser' begins shooting in June, but for some reason the filming of the new season has been delayed until September.
The network has not announced who will replace Alison as host.
Season 17 will be very different from Season 16, which featured a cast of former athletes. In May, 'Biggest Loser' trainer Jen Widerstrom told The Ashley that the upcoming season will not include "Comeback Canyon" like Season 16 did.
"No way can they bring Comeback Canyon back for next season," Jen told The Ashley. "The cat's out of the bag…It was great but there's really no way that they can do [that twist] again because the surprise element would be gone."
NBC has not confirmed the status of the show's longtime coaches, Dolvett Quince and Bob Harper.
(Photo: NBC)