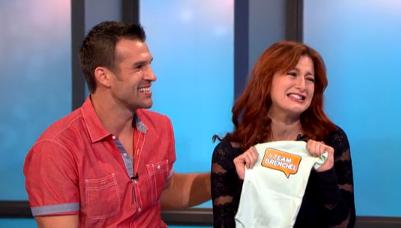 A "Brenchel" baby is on the way!
Former Big Brother stars Rachel Reilly and Brendon Villegas announced last night during an interview with 'Big Brother 17' host Julie Chen that they are expecting a baby. This will be the first child for the couple, who have been married since 2012.

"Well, you know, Julie, how I say no one comes between me and my man … except a Brenchel baby!" Rachel announced during the show.
Julie presented the couple with a "Team Brenchel" onesie, and suggested that they consider naming their child "Brenchel", after the nickname that 'Big Brother' fans gave to them as a couple years ago. (Rachel and Brendon– please don't listen to Julie. Take the gift but not the name suggestion!) 
It's no surprise that Rachel and Brendon are expecting. Back in April, Rachel told The Ashley that she and her husband were "actively trying to have a baby."
"We are definitely having babies, but these things take time," she told The Ashley. "It's still the plan, it's happening."
The couple, who has also appeared on The Amazing Race twice, told People that their time on reality TV has helped prepare them for parenthood.
"We're so excited for this new adventure!" the couple told the magazine. "After competing on four reality shows we feel like we're prepared for this new challenge. We found a way to make another lifelong alliance member and we couldn't be more overjoyed. We knew we had to announce it on the show that brought us together! We can't wait for the Brenchel Baby to arrive."
Rachel is due in the spring of 2016. She and Brendon did not reveal if they are expecting a boy or a girl (yet).
(Photo: CBS)