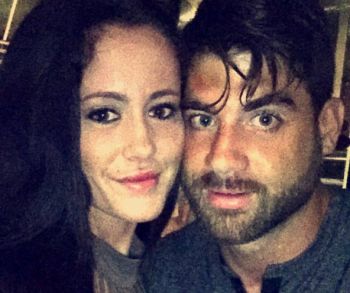 Just weeks ago, Teen Mom 2 star Jenelle Evans was adamant that she was going to stay single for a while, after breaking up with fiance Nathan Griffith. But it seems that Jenelle has had a change of heart because she already has an new booooooyfriend!
Jenelle has been posting photos (and awkward Instagram videos) with new guy David Eason for the past few days, but today she made her relationship with David "Facebook Official." She announced on her private Facebook that she and David were officially together. 
It's par for the course with Jenelle, who 'Teen Mom 2' fans have watched go from one relationship to the next with only days in between. On September 1, she told RumorFix that she planned to change her habit of going from man to man.
"I'm not looking to date anytime soon," she said. "If anyone pops up in my life then so be it, but I'm not going to go looking for anyone."
Somewhere between then and now it seems that David "popped up" and caught Jenelle's eye. Unfortunately, David appears to share the trait that many of Jenelle's beaus have: a criminal record.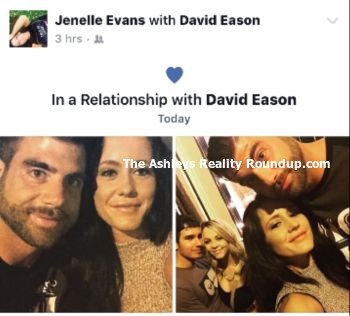 Not long after Jenelle began posting about David, her trusty gang of online haters began digging up information about him, revealing that he has an extensive criminal record. David, a 27-year-old from Wilmington, North Carolina, has been arrested numerous times for assorted crimes. His rap sheet includes charges for felony breaking and entering, second degree trespass, larceny, obtaining false pretenses, DUI, and possessing drug paraphernalia, to name just a few! (Even Kieffer Delp would be impressed by that list of crimes!)
It appears that David even spent some time in prison (as you do). According to All About The Tea, he was locked up from October 2014 until January 2015.
And, of course, David has a couple of his kids of his own with an ex. Naturally.
The good news is we'll get to watch Jenelle's next relationship play out on TV! As The Ashley exclusively told you yesterday, 'Teen Mom 2' has been picked up for a seventh season, and the girls will begin filming very soon.
It is not yet know if David has the same aversion to shirt sleeves that Nathan does.
(Photos: Facebook)