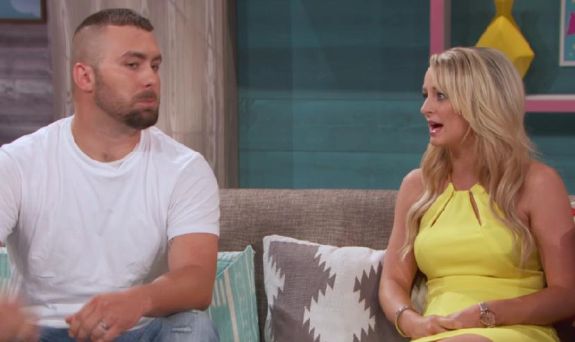 A new clip of the second part of the Teen Mom 2 Season 6 reunion has surfaced in InternetLand, showing Leah Messer sparring with her ex-husband Corey Simms over various things, including his wife Miranda Simms. The first part of the Season 6 reunion aired last night, featuring Jenelle Evans' and Kail Lowry's segments, and the second part is set to air next Wednesday with Leah's and Chelsea Houska's segments.
The Ashley will, of course, be recapping those episodes, but she has a lot of behind-the-scenes gossip of what went down while the cast was in Los Angeles to tape the reunion in July!
Let's get to it…
Leah & Corey
The Ashley wanted to explain what was going on in this preview clip of Leah and Corey's segment.
Leah and Corey start to get into it, and right when Corey is about to bring up some of the questionable stuff that Leah's done in the past, Leah says "Monkey" and someone from the audience screams, "She said 'Monkey!'" and everyone stops. Well, just as The Ashley told you back in July, that person screaming from the audience is Leah's mom, Dawn Spears.
Leah's mother told the show's producers that Leah wasn't fit to attend the reunion, given that she was fresh out of rehab and very delicate at the time of the reunion taping, The Ashley's on-set source explained.
"She claims that Leah almost died from stress and anxiety before she went to treatment," the source said. "She said Leah's blood pressure was sky-high. She didn't wan't Leah to go to the reunion, but she has to due to her contract."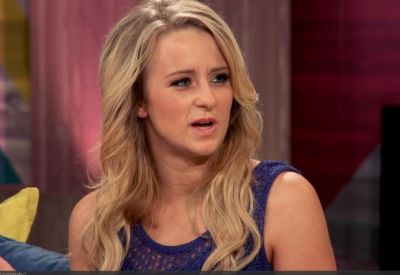 In order to make Dawn and Leah feel more comfortable, the producers allowed them to create a safe word for Leah to shout when she felt things were getting too intense. The on-set orders were for everyone to stop talking and for Dr. Drew to take control of the situation and put an end to whatever conversation was happening. For some dingdang reason, Leah and her mom chose "Monkey" to be the safe word.
When things got intense between Leah and Corey, Leah said "Monkey" but no one seemed to hear her. That's what caused Dawn to stand up from the audience and start hollerin' for them to stop. Afterward, Corey and Miranda had a good giggle at Leah's safe word and Dawn overheard them laughing about it and, of course, came unglued. Multiple sources who were backstage at the reunion have told The Ashley that Dawn was telling people how much she and Leah hate Miranda.
Obviously, the feelings are mutual, given what happened between Leah and Miranda on-set.
Also, as The Ashley told you before, Leah's new man, T.R. Dues, flew out to Los Angeles with Leah for the reunion. (By this time, they had already been together several months, by the way.) Leah conveniently forgot that she had T.R. in her hotel room just hours before when she filmed this scene for a "Closer Look" special that was shown after episode 8.
When asked (at about the three minute mark of the video) by host Nessa if she planned on dating again any time soon, Leah flat-out lied.
"I just went through a divorce," Leah said. "Let's play it smart this time. Let's not jump into anything."
Jenelle Evans:
As viewers saw, Jenelle stormed off of the stage twice during the filming of her segment. What viewers may not know is that MTV had a terrible time just getting her to the reunion. Jenelle and her (semi) on-again at the time ex, Nathan Griffith, were scheduled to fly to Los Angeles on Friday (the day before the taping started). From what The Ashley heard (and she can't confirm this piece 100 percent, just FYI), Jenelle and Nathan got into a big fight and when their plane landed in Atlanta for their layover, Jenelle took a flight back to South Carolina instead of flying to LA!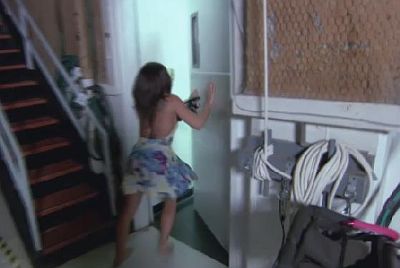 This explains why Jenelle was tweeting about being home in Carolina that Friday night when she was supposed to be in LA with the cast. A production source told The Ashley that the show's producers convinced Jenelle to fly out again the next morning, but they had to shell out over $1,000 for a last-minute cross-country ticket for her!
Once Jenelle arrived on Saturday morning, she was a "terror on set," the source says, adding that she was upset over her fight with Nathan.
"She held up production for hours and they had to totally change the filming schedule around because of her," the production source told The Ashley. "She locked herself in a room at the studio and had a complete breakdown and refused to come out and get ready to film."
Jenelle was so enraged, the production source said she smashed her iPhone and….get this…an MTV production assistant rushed out and bought her a brand-new one that same day!
Chelsea Houska & Kail Lowry:
Chelsea and Kail weren't nearly as entertaining as Leah and Jenelle this season, and that trend continued on into the reunion. (Of course, that's a good thing!) A source did tell The Ashley that Chelsea and Kail are growing tired of their co-stars, Jenelle and Leah, getting special treatment from the producers, due to their "issues." The girls feel like the show's bigwigs coddle Jenelle and Leah and they feel it's unfair that MTV has spent a ton of money on rehab trips for the other girls. This came to a head at the reunion, one source says.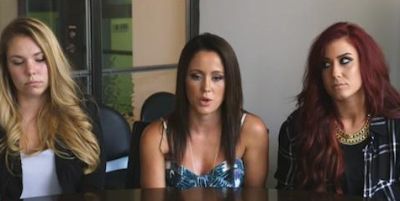 "They think that the rehab expenses should come out of the other girls' paychecks, or they should get the cash equivalent of what MTV spends on rehab for their cast mates," the source told The Ashley. "They are responsible and don't cause the producers any problems."
Jenelle's phone-smashing and last-minute airline ticket expenses surely added to Chelsea and Kail's anger over the situation.
Stay tuned for The Ashley's recaps of the reunion episodes!
(Photos: MTV, OK!)