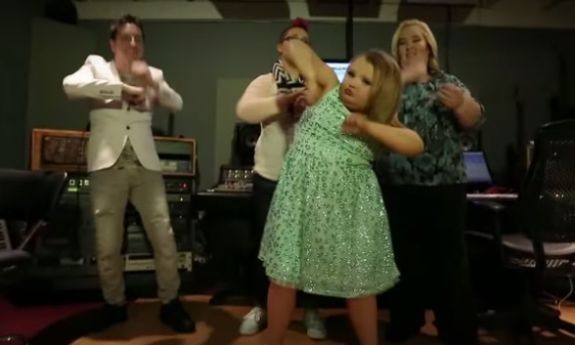 'Member when Teen Mom OG star Farrah Abraham released a series of songs a few years back that made you want to take a jackhammer and drill out your eardrums? Well…the new "song" just released by Here Comes Honey Boo Boo star Alana Thompson makes Farrah's "music" sound like Mozart.
That's right, kids…Honey Boo Boo has released her first rap song and music video, courtesy of her manager and Adam Barta (the team responsible for Farrah's musical ventures, as well as the horrific rap song recently released by Teen Mom 3 star Mackenzie McKee). 

While it gives The Ashley no great pleasure to make fun of something done by a child, there's no way to sugarcoat whatever the hell this is.
The song, called "Movin' Up," was released earlier this week, along with its music video. In the video, Alana is shown rocking out in the studio while her mom June Thompson, dad Sugar Bear Thompson and sister Pumpkin bop in the background.
Alana proceeds to rap scream into the microphone through multiple verses, telling fans that she's just a "small town girl, living in my princess world."
"Started out as a pageant queen/ then on TV doin' my thing," she sings, while dancing what is apparently known as the "Honey Boo Boo Bop." (Watching Alana's father, Sugar Bear, do "the bop" was, undoubtedly, the highlight of this video.)
If you're truly masochistic and want to purchase the song on iTunes (perhaps to use to scare the kiddies on Halloween this year?) you can do so using the link below the video: