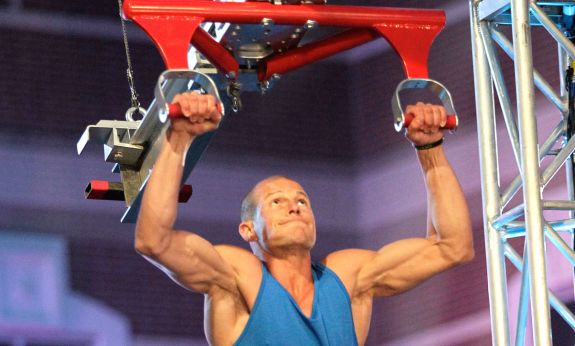 By Holly Rasmussen
The Esquire Network is about to take the hit competition show American Ninja Warrior to a whole new level! The network has announced that it will be presenting the "mother of all obstacle course challenges" with its new spin-off show, Team Ninja Warrior! The show will feature past competitors of 'American Ninja Warrior,' competing as teams for the ultimate prize. The ninjas will form 24 teams of three and compete against the other teams, as well as the clock.
"The competitor's endurance and speed will be time-tested in three brutal rounds of obstacle course runs," the network said in a press release. "From leaping off the 'Sonic Rope,' to tackling the 'Flying Shelf Grab,' scrambling down the 'Double Jump Hang,' and racing up the redesigned 'Dual Warped Wall,' the teams with the fastest cumulative times in each episode will advance to the finale where only one team will be crowned 'Team Ninja Warrior' champions."
The teams will be made up of some of our favorite competitors from 'American Ninja Warrior, including Geoff Britten (the first person to ever beat the course); Brent Steffensen (a six-year 'Ninja' veteran); and Kacy Catanzaro (the first woman to reach the finals).
The show will also feature top contestants such as Flip Rodriguez, Brian Arnold, Joe Moravsky, Jessie Graff, Kevin Bull and Lance Pekus.
"They will be running, jumping, vaulting, and rolling through an amped-up version of the world's most intense obstacle course, vying for a big cash prize and even bigger bragging rights," the network stated.
'American Ninja Warrior,' which evolved from a Japanese competition show, has been a huge summer hit since it premiered in 2009. In 2012, it became one of the first shows conceived on a cable network that aired on a broadcast network in primetime.
'Team Ninja Warrior' will feature the same hosts as the original show—Former NFL player and sports analyst Akbar Gbajabiamila and comedian Matt Iseman. The eight-episode show is set  to premiere in early 2016.
(Photo: NBC)