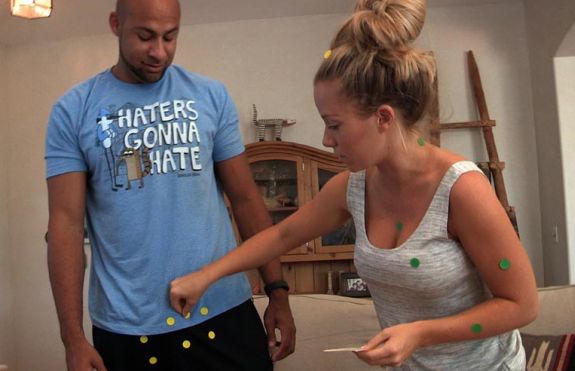 By Holly Rasmussen
Kendra and Hank are back for another week of manufactured drama! We start this episode of with the Kendra on Top couple taking an overnight trip to an "intimacy retreat." (Is this going to be like the movie "Couples Retreat"? Let's hope so. Kristen Bell would really liven this show up.)
Anyway, Hank is appropriately dressed for this adventure. He's sporting a shirt that says, "Haters gonna hate." Unfortunately, one of Hank's haters seems to be his own wife so that may be kind of a problem. One of the rules of this "retreat" is that if one of them "does something bad" then the other one gets to spank them with a paddle. Well, that sounds legit.
Once at the retreat, Kendra and Hank do some weird exercises where they put stickers on each other to mark where they think the other one's erogenous zones are. This is just awkward to watch. (Also, do these idiots even know what 'erogenous' means?)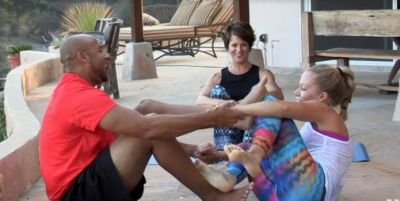 Next, they do some awkward couples yoga, including a "tantric hug."
"I've been trying to get Kendra to give me a real proper hug for over a year now," Hank says.
Kendra actually acts like she likes Hank for once and says, "It's been over a year and a half since I've felt this safe in Hank's arms."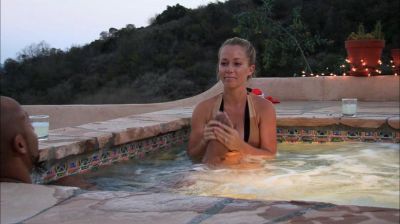 After that, they have a bonding moment by rubbing each other's feet in the Jacuzzi. Could this be any more boring? We went from wild parties in the Playboy Mansion Grotto to boring foot rubs in a Jacuzzi at an "intimacy retreat."
Later that night, they go to dinner. But, of course, it's not a regular dinner. They are blindfolded and supposed to feed each other. Hank gets mad because Kendra is eating the food she is supposed to be feeding him. They get into an argument over it. Kendra yells that she's done  and storms off to the bedroom to cry.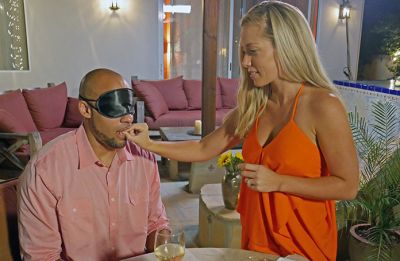 Kendra finally comes out of the bedroom to talk to Hank. Kendra cries. Hank cries. All of this over her eating a fig? They must really be scrapping the bottom of the barrel for plot lines.
"I think that the fight that we just went through was really important for us to go through," Kendra said. Really? It was? Fighting over a fig was really important? The next day they split up into private sessions to talk trash about each other.
"He wants your approval so badly, but he's so used to you criticizing him," the therapist said. (Apparently she watches this show?)
In the end, they passed the intimacy course and got a certificate to prove it.
When they get home Kendra decides to show off the cooking skills that she learned on Worst Cooks in America: Celebrity Edition. She will be cooking for Hank and her friends Jessica and Kyle. Jessica has memorized all of the lines that production gave her to say.
"I don't know what happened on this retreat, but it must have worked," she says with a cheery smile on her face. "She's beaming. It's like a brand-new Kendra."
Yeah, we know you just want that TLC paycheck, girl.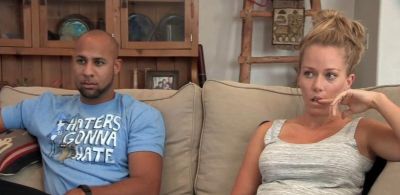 During dinner, Kendra is, of course, mean to Hank, so he brings the paddle out to give her the spankings like the therapist said they should do when one is mean to the other. After dinner, they make Jessica and Kyle do the erogenous zone exercise. Well, this is appropriate dinner table behavior.
Next week, Kendra's dad goes to the Playboy Mansion to meet Hef, but apparently there's some drama. The preview says, "What Kendra's dad does at this party could get her banned from the Mansion forever." It also shows Kendra on the phone asking her dad why he's in police custody. Leave it to "GrandDude" to finally spice things up!
Until next week…
To read more of Holly's 'Kendra on Top' recaps, click here!
(Photos: WeTV)