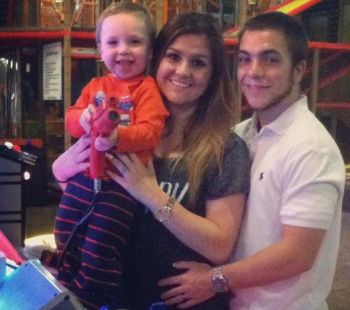 Another baby is on the way for 16 and Pregnant Season 5 stars Summer and DJ Rewis. The couple has announced that Summer is expecting again!
Summer and DJ, who have been married since August 2013, are also the parents of son Peyton, who turns two this month. Summer broke the news of her pregnancy by posting a photo of Peyton, stating that he's going to be a big brother.
In an exclusive interview with The Ashley, Summer talked about her pregnancy, and opened up about the negative reactions she has been receiving from the show's fans since her pregnancy announcement yesterday. 
"We just found out," Summer told The Ashley of the pregnancy, adding that she's only about a month along.
Summer said that fans who watched her '16 and Pregnant' episode (which was filmed over two years ago) have criticized her and DJ for having another baby, which she says infuriates her.
"DJ and I are so happy and I just hate that people think they know how our lives are from one show," Summer said. "It drives me crazy."
Although Summer admitted that she and DJ weren't planning to have a second child right now, she said that they are very happy about the news.
"Yes we are having another child, no it was not planned," she said. We are nervous but excited. We have our own home and DJ has an amazing job."
Last year, Summer and DJ almost split up due to DJ's infidelity. Summer tells The Ashley that her marriage is much stronger these days.
"We're two completely different people than we were a year ago," she said. "DJ and I are doing amazing, and have been for quite some time now. This [new baby] isn't to 'fix our marriage.' I'm just so annoyed with how we're being put down for things that happened two years ago."
Summer, appropriately, is due next summer.
To read The Ashley's interview with Summer from last year, and see what she had to say about her '16 and Pregnant' episode, click here!
(Photo: Instagram)