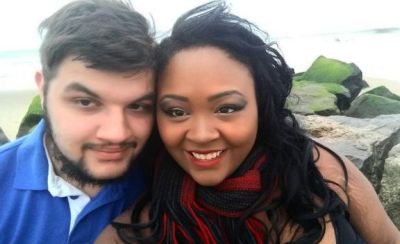 It's become commonplace for the girls of 16 and Pregnant to have second (and even third!) babies relatively soon after starring on the show. However, it's still rare that a girl from the show actually marries her baby's father. Jordan Howard, who starred on the fourth season of '16 and Pregnant,' beat the odds yesterday when she married Tyler Zeplin, who is the father of both of her children.
Jordan and Tyler, who are the parents of four-year-old Chase and one-year-old Skylar, tied the knot in Pennsylvania's Susquehannock State Park yesterday. The couple's autumn-themed wedding included their two children. It does not appear that any of Jordan's '16 and Pregnant' co-stars attended the festivities.
Jordan's episode of '16 and Pregnant' was memorable because her mother was against Jordan's interracial relationship with Tyler, whom Jordan met during her freshman year of high school in 2008. After her episode aired in 2012, Jordan assured fans that her mother had accepted Tyler and things had drastically improved.
Tyler is now working as a forklift operator, while Jordan is self-employed as a cake decorator.
Jordan's Season 4 co-star, Lindsay Harrison, recently got married (although it wasn't to the man she starred on '16 and Pregnant' with). To see what some of the other girls who starred on Season 4 are up to today, click here and here!
According to Jordan's Instagram account, she and Tyler are currently on their honeymoon.
Wanna see their wedding registry? Of course you do!
Check out more photos of Jordan and Tyler's wedding below:

(Photos: Instagram)