By Holly Rasmussen
Former Girls Next Door co-stars Kendra Wilkinson and Holly Madison are at each other's throats again! In a new interview with People, Holly, who dated Hugh Hefner at the same time that Kendra did, calls out Kendra for trying to manufacture drama between them to get ratings for her reality show, Kendra on Top.
"It was definitely a new low in my opinion as far as trying to create content out of nothing," Holly told the magazine. "It was a completely fake set up."
Holly's referring to a scene on a recent episode of 'Kendra on Top,' where Kendra and her friend are shown rolling up to Holly's book signing ready to "beat a bitch up" as Kendra's husband, Hank Baskett, put it. (Kendra was pissed because she felt that Holly trash-talked her and their former sugar daddy, Hugh Hefner, in her book Down the Rabbit Hole. Kendra accused Holly of "rewriting history.")
Kendra and her friend got to the parking lot of the book signing to confront Holly …but then decided to turn around and go home. Even though she never confronted Holly, Kendra still managed to turn the non-event into an entire episode of her show.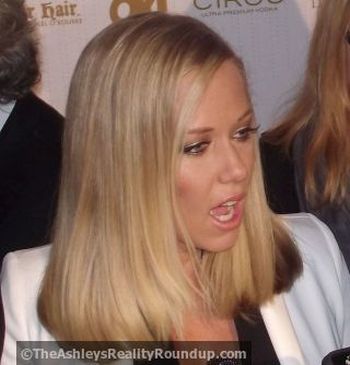 "Friends started hitting me up and saying, 'Oh I saw a preview for Kendra's show on this website and it has footage of you. I didn't know you did her show.'"
Holly said she was shocked because she didn't agree to be on Kendra's show.
"She spends the whole episode ranting about how allegedly fake I am, but it was just a whole fake scene," Holly said, adding that she is unsure if Kendra even obtained clearance to use the footage of Holly's book signing.
Holly said Kendra could have always called her to discuss any issues she had with the book, but "that's not Kendra's style."
"I haven't always given Kendra's brains the most credit in the past, but she's smart enough to know that had she showed up at The Grove to confront me, I would have just had security escort her off the property," Holly said.
How great would it have been to watch Kendra be hauled away, screaming to Holly that she's fake?!
"I don't even think it was anything she was considering doing," Holly added. "It was more acting tough for the cameras."
Kendra has had to come up with some new story lines, as we are tired of the whole "Hank cheated" saga that they've been milking for two seasons.
Tomorrow, the 'Kendra on Top' season finale airs with Kendra allegedly trying to break up her father's marriage. To read recaps of this season's episodes, click here!