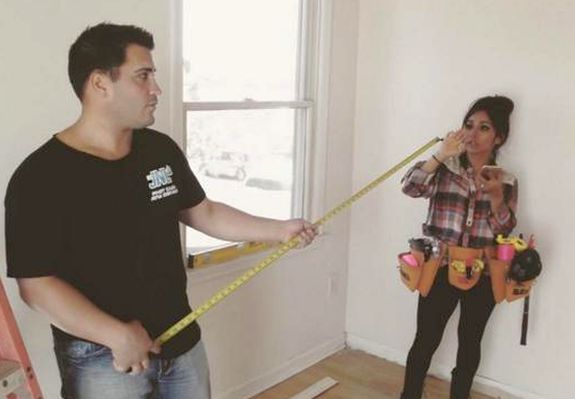 It was only a few short years ago that the residents of the Jersey Shore were trying to prevent Nicole 'Snooki' Polizzi and her then-fiance, Jionni LaValle, from renting a house in one of the beachside communities along the Jersey shoreline. Now, the residents of the Jersey Shore are welcoming the couple with open arms– and asking them to fix up a valuable beach property!

Today, Nicole announced that she and Jionni will star on Nicole & Jionni's Shore Flip, a new show for the FYI Network that will showcase the now-married couple's new business venture of renovating and flipping Jersey Shore beach homes for profit.
"'Nicole & Jionni's Shore Flip' will follow the couple, along with their family and close friends, as they undertake their first business venture into flipping a home together," FYI said in a press release today.
"Viewers will see Nicole and Jionni juggle the day-to-day challenges of undertaking a massive home renovation and design, on top of managing additional work endeavors and the equally as demanding job of raising two young children. With their own money and reputations on the line, viewers will see Nicole and Jionni do what it takes to complete the home renovation and flip a profit."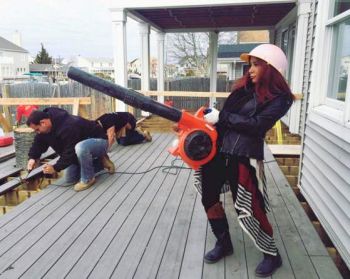 On her Instagram, Nicole told her followers that she will serve as the designer of the home, while Jionni will do construction work.
According to The Hollywood Reporter, production has already begun on the eight-episode series. Both Nicole and Jionni will also serve as executive producers of the show. 
In addition to 'Shore Flip,' Nicole is also starring on a new digital series for the Awestruck Channel. The show, which co-stars Jenni 'JWoww' Farley, is called Snooki & JWoww: Moms with Attitude. It premiered on November 13. 
FYI has not released an official premiere date for 'Shore Flip,' but according to Nicole's Instagram posts, the show will begin airing in early 2016.
(Photos: Instagram)