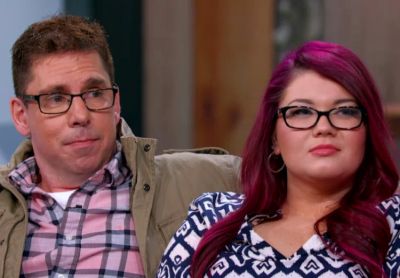 In December, The Ashley broke the news that Teen Mom OG star Matt Baier really does have seven child support cases currently filed against him. On tonight's episode, Matt's litter of children will be addressed, and his fiance, 'Teen Mom' star Amber Portwood, will learn that at least seven women have filed child support cases against Matt. (The Ashley confirmed this and provided more information on each of Matt's alleged children. You can read that report here.)
Amber has previously denied that The Ashley's report was true. She later changed her story, stating that she would stay with him "even if he had 20 children!"
Well, according to Kelly Nunn, that number may not be too far from the truth. Kelly, who says she was once engaged to Matt, tells The Ashley that Matt is also the father of her eight-year-old daughter. Shockingly, that little girl (whom The Ashley will call "A" for privacy reasons) is not one of the seven children who Matt has support filings for already. She is an additional child, bringing the number of offspring allegedly fathered by Matt to (at least) eight!
In an exclusive interview with The Ashley, Kelly explains how she was shocked last year when she saw Matt appear on 'Teen Mom OG,' and even more surprised when she watched the episode in which he proposed to Amber.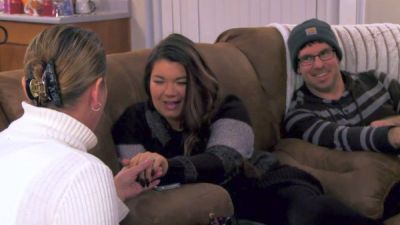 "The speech he gave before proposing to Amber was almost verbatim to what he told me when he asked me to marry him," says Kelly, who lives in Matt's home state of Massachusetts.
Watching the proposal wasn't the only thing that Kelly says gave her deja vu. In fact, she says, the rapid pace of Amber and Matt's relationship is almost a mirror image of what happened with her and Matt.
Kelly says that she met Matt in June 2007, when they were both starting work for FritoLay.
"We worked in the warehouse together; he came to my house, brought me my favorite flowers, and we started dating. Within a month he had moved in," Kelly said.
Just like Matt and Amber's relationship, Kelly's relationship with Matt progressed rapidly and she says they were soon engaged.
"I introduced him to my [older] daughter then, because I felt like we were going to be together and because we were engaged," Kelly said. "We bought a dog together and soon after he was really pressing to have a baby. I wanted to wait until we were married, but he was very persistent."
Kelly claims that she got pregnant soon after she and Matt started trying. However, that's when things went sour, according to Kelli.
"I found out I was pregnant in September and by October, Matt was GONE!" Kelly claims, adding that she and Matt kept in touch somewhat and she figured that he would come back.
When she went into labor, Kelly says that she called Matt to let him know and ask him if he'd come to the hospital.
"I never heard from him," she says, adding that she gave the baby girl her last name instead of Matt's, but did give the baby Matt's middle name of Lee, "just in case things ended up working out between us."
Kelly says that when Matt finally did meet his daughter a month after she was born, "he introduced himself to her as 'her sperm donor,'" Kelly says.
"Up until she was two I kind of thought we would still work things out," Kelly said. "He gets into your head, he's a good conman, I thought he was the one for me, that we belonged together. He has this way of making you think that everyone else is crazy, and that you belong with him."
Kelly says that when her daughter was two (in 2009), Matt randomly came back into their lives. He apologized for what he had done, according to Kelly, and she gave him another chance. (She claims she had no idea he was involved with yet another woman–whom he ended up having a child with at the time.)
Kelly says she and Matt and their daughter took a trip to a local casino resort and during that trip, Matt allegedly revealed how he felt about their daughter.
"He told me that he knows that [A] is his but he just doesn't feel anything for her," Kelly says, adding that she left right then and there with her daughter.
Years went by and Kelly never heard from Matt. She is currently married and says she was lying in bed with her husband watching 'Teen Mom OG' when a familiar face showed up on screen.
"I hadn't talked to him in years," Kelly says. "It was a surreal. 'Teen Mom' is my guilty pleasure, so when I saw him on there I almost died."
Kelli says she started tweeting to Matt after the episode aired, but he soon blocked her. Soon after, though, Matt emailed her and asked to talk .
"Somehow, he managed to make me feel bad and crazy for being mad at him," she says. "He's very good at turning things around on you."
This time, however, Kelly says she saw through it and continued to try to get more information. A friend somehow was able to locate the phone number for 'Teen Mom' executive producer Morgan J. Freeman, and Kelly says she called him.
"This summer, I called him and left a message," Kelly says. [A Teen Mom producer] called me back. I told her the story of who I was. [Later] the producers called me back with a team of people from the show all on the line. They left it that they would mention on air to Amber that they were contacted by me and see what she wanted to do."
Kelly says that she recently spoke to one of the show's producers who told her that her child support filing for "A" would be added to the growing list of other cases against Matt.
"She told me that while Matt is not yet getting paid for being on the show, he will start getting paid soon, and they will be garnishing his wages for the support cases," Kelly said.
Kelly says she's not even concerned about the money at this point, since he allegedly owes her over $10,000 in unpaid child support. Watching Amber with Matt does concern her, though.
"He knows just what to say. He didn't do the shady stuff all at once, this is trickling in for her," Kelly says. "He has this way of making you feel like he's legit and everyone else is lying. He loves you like no one else."
When Kelly and Matt spoke via email, Kelly says that Matt told her that no one would believe her.
"Then I realized this is coming from a man with at least eight kids," she said. "In 2008, the number I knew of was eight. That was eight years ago though, so who knows what has happened since that?!"
Kelly stated that there is at least one other child that she knows of– a little girl who is a bit younger than her daughter. That child was also not included in the original seven children either. (The Ashley can't confirm this child is Matt's, as she was not able to find any court records to back it up.)
Kelly claims that she has spoken to several of the other women whom Matt has children with (and have filed support cases against him).
"They didn't appreciate me blasting him on Twitter that night," Kelly said. "I said, 'He has all these kids that he's not paying for and doesn't see, yet he's off attending the MTV Movie Awards. How could that not bother them?"
Although Amber has stated that she will stand by her man no matter what, Kelly says that doing so will cause Amber a world of pain.
"My advice to Amber would be to RUN!" she says. "Don't get pregnant, that's the big thing. She doesn't even know the half of it. When you're with him, you don't see the red flags. It wasn't until afterward that I saw everything and I couldn't believe that I hadn't seen it before. He just crushes people. He even told me that he was going to break my heart when we were dating, but I thought he was just being dramatic."
During the interview, Kelly provided some interesting little-known-facts about Matt. While she claims that he is "perpetually unemployed," he was once a DJ at a Montana radio station! His on-air name? "The Big Mattress!" (That name is quite fitting, considering that's apparently where Matt's spent a lot of his time making babies!)
Unfortunately, Matt's career as an on-air DJ was short-lived. According to this article, he was fired in 2004, just six months after he began his job. Soon after, he disappeared.
Kelly also claims that Matt has used the alias "Grey Baker" in previous years. In fact, he once wrote a book under that pen name. (Yes, it was hard to believe that Matt is an author, but here's hard proof, with Matt's photo alongside the byline "Grey Baker.") The book he wrote was about child abuse, and, according to Kelli, it came during a time where he was hanging around a woman who ran a non-profit that dealt with child abuse.
With the big 'Teen Mom OG' episode regarding Matt's paternity cases airing tonight, Kelly said she's anxious to see what happens.
"I hadn't thought of him in so long before this," she says. "His life is seriously like one giant episode of The Jerry Springer Show. Amber needs to get as far as she can from all of that!"
On January 21, Matt received a summons to appear in court to answer for the original seven child support cases that had been moved from all the other states. (Kelly's is not part of that group.) He is scheduled to appear in an Indiana courtroom on March 22 for a hearing to enforce/modify his support orders.
UPDATE (Feb 2, 2016): Another woman has come forward, claiming that Matt scammed her out of a lot of money. The Ashley is working to investigate these claims.
Amber has responded to The Ashley's story.While she first claimed that Matt only had two children, last night after The Ashley's story posted, she claimed that we "don't have a clue" and that Matt's kids "are in their twenties."
Just last night, however, Amber and Matt admitted to MTV News that Matt actually has five kids, three of whom are grown with their own families. (If you're doing the math, that leaves two recognized kids underage, which contradicts the statements she made on Twitter last night about all of Matt's kids being in his twenties!)
While Matt is now admitting to have five kids, he has still not acknowledged two of the children who he's being sued for child support for, or Kelly's daughter.
(Photos: MTV)