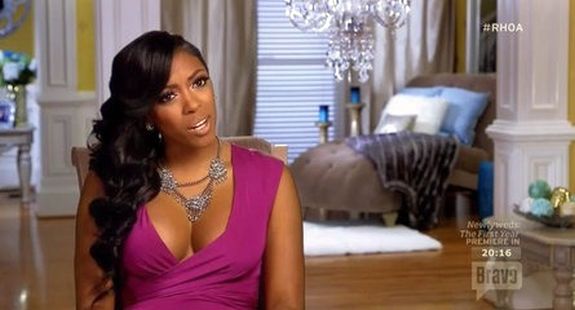 By Holly
It's time for another trip to the madhouse that is Marriage Boot Camp: Reality Stars. Last week, Sugar Bear was admitting to gay sex, everyone acted out their sex lives via puppets, and Sundy most definitely didn't sleep with Althea's husband…or maybe she did. How can this new episode possibly even come close to that?!
We start out this week with Bachelor Sean playing personal trainer to Mama June. While they're getting their sweat on, Cedric is in the kitchen complaining about how Sundy never told him that she may have hooked up with Benzino 15 years ago. To get through this mess, the counselors call them all to the carpet for another activity. They say it's day seven. Seven? Really? All this nonsense has happened and it's only been a week? These people are exhausting!
The counselors make the couples split up and identify what event in their past caused them pain.
"This should help them gain some perspective," the counselors say.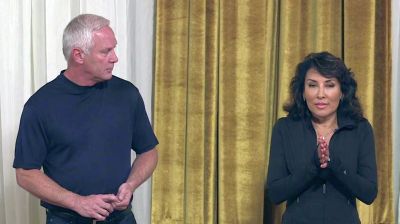 After the Bootcampers identify their pain, the counselors are going to make them announce it to the group.
That sounds…mildly humiliating, which is just how they like it on this show!
Sugar Bear goes first. He said his pain stems from a redneck fight in his backyard when he was a kid. He said his uncle and dad got into a fight and his uncle pulled a knife on his dad and his dad pulled out a gun and fired.
But, "luckily they both missed," Sugar Bear said. "It hurt real hard," he said.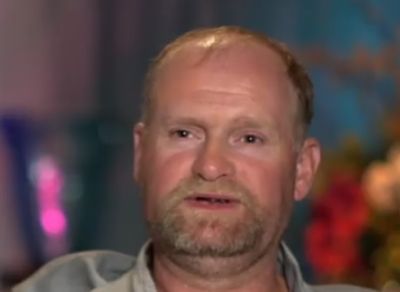 If only there were footage of that fight, somewhere on a dusty VHS tape….
Next, Cedric threw down some seriousness.
"I don't' think my father is my father," he said.
Sean blah blah-blahed about his failed business. (Um…maybe stop going on reality shows and start focusing on said business?)
Catherine revealed that her mom and sister called her a pig as a child. Sorry honey, but that's just not gonna cut it in this group. We've got people stabbing fathers and whatnot. Your family's poor choice of nickname for you isn't going to get you any sympathy.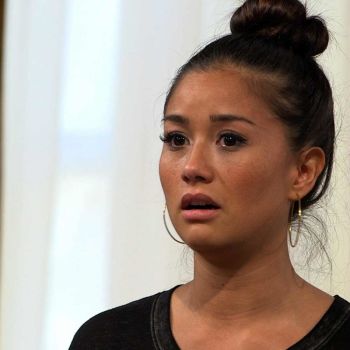 Next, Mama June talked about how her mom was an alcoholic who left her in the car while she partied at the bar.
Sundy refuses to do the drill and leaves the room. She's holding something back that she says her husband and her mom don't even know. What better place to reveal a deep, dark secret than national TV?!
Sundy finally reveals that when she was 12 years old her babysitter used to touch her inappropriately while she slept. The counselor helps her reveal this information to Cedric. When the counselor reveals it to Cedric, instead of going to Sundy to comfort her, he walks away.
In a strange turn of events, Mama June is acting as the go-between between the two. Uhhh…did we all forget that Mama June hung out with the man who was convicted of molesting her young child?
After the drama, the counselors make the campers come outside and place some rocks with characteristics like "humiliation" and "self-hatred" in buckets. They then make them put the rocks in vests and wear them so they can feel the weight they carry. Sarah talks about how many pockets the vests have on them.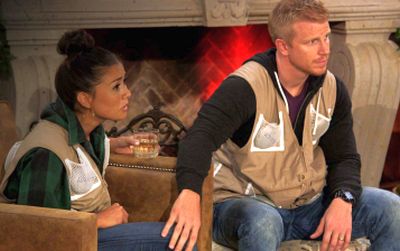 "You can go to Wal-Mart and steal the whole damn store with that on," she said.
Pocketed vest are the fashionable way to a felony, y'all!
Later, Catherine and Ink get into a fight and Catherine is mad that Sean doesn't stick up for her.
"He can't mock me like that when all I do is love on people," Catherine said.
"Catherine is a big girl. So, I didn't feel like I need to step up in between her and Ink," Sean said.
I think he's just afraid Ink would beat him up. Let's be honest…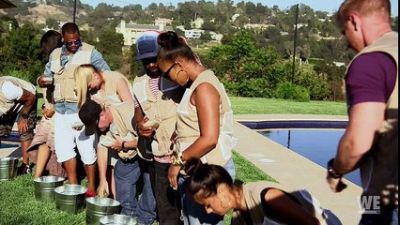 Later that night, the counselors make the campers come out in the dark in their vests. Then, they bring in actors to act like the people that hurt them. They then have to confront these people.
We end with Catherine and Sean getting in to a fight and her chasing after him like a rabid Chihuahua.
Is the "perfect" marriage of Sean and Catherine finally starting to crumble? We'll have to wait until next week's episode to find out.
To read a recap of the previous 'Marriage Boot Camp' episode, click here!
(Photos: WEtv)