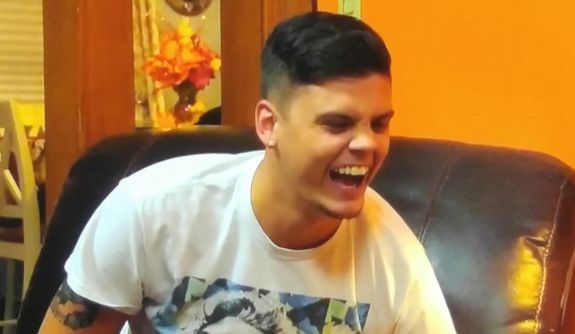 We're nearing the end of tour of Teen Mom-ville, folks! With just one episode left in this season after this one, The Ashley is hoping that MTV has packed in a whole bunch of drama, court dates, and at least two more instances where Amber screams, "I'M DONE!" Everyone cross your fingers that MTV delivers the goods!
This episode kicks off in Tennessee, where Maci's stressed out because Bentley has to have his tonsils taken out. While she's worried about her kid having something surgically removed from his body and all, Maci's most worried about having to take care of Bentley and Jayde alone because Taylor's going to be working. (Um…is Ryan's mom out of town or something? Shouldn't at least one of Maci's kids be with Jen at all times?)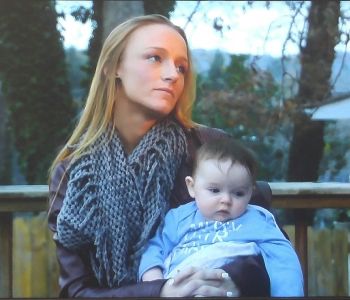 Bentley's pretty excited about the whole surgery. After his tonsils come out, he gets to come home, relax and eat ice cream all week. So…essentially, he'll be living the same life as his dad, Ryan…
Bentley must be attempting to be like his Mama as well. He rushes over to the fridge, opens it up and proclaims, "I need a beer or something!"
Yes. That happened. The Ashley can't even make crap like that up.
Over in Austin, Sophia has lost another tooth. Most parents put a handful of change under their kid's pillow when they lose a tooth, but, as we know Farrah isn't "most parents."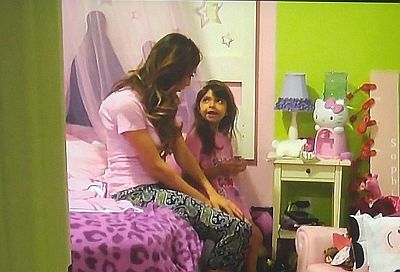 She makes a big deal of having the cameras follow her into Sophia's room, where we find out "the tooth fairy" has gifted Sophia over $1,000! (Obviously, the "tooth fairy" has extra cash to throw around after going a few rounds in the sack with a fairy p*rn star…)
So, to recap, Sophia's just made more than most people watching this show will make in a week. See, I don't understand why people say this show is ridiculous. It is clearly a very accurate portrayal of life as a teen mom!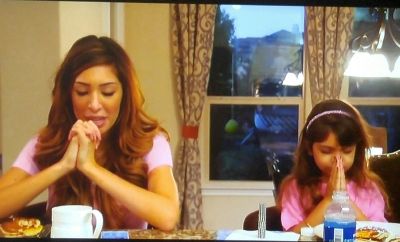 Meanwhile, Debra is downstairs, thinking of ways to convince Sophia to fund her next plastic surgery procedure. Deb's cooked the gals up some pancakes for breakfast, and, because we know that Farrah & Fam are just cornerstones of the Christian faith, they make a big deal of praying before they slop down their Debcakes. For some reason, Farrah uses her baby voice to speak to the Baby Jesus. As you do.
After Farrah's big prayer, Sophia asks why she gets over a grand when she pulls out a fang, but her dogs don't get any money when they lose teeth. Debra straightens her sassy, cleavage-bearing top as she explains that it's because "doggies don't have souls."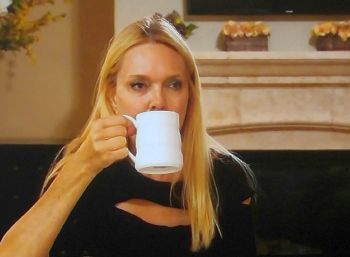 UM!? Farrah is sans-soul, but she seems to have no problem making money. Also….does anyone else kind of want to punch Deb in the liquid-lifted face for saying that dogs have no souls?
Farrah explains that she and Simon have begun texting again. (If Farrah ever decides to do a masochistic skin flick, this Simon character would be a great co-star. He clearly enjoys pain.)
Simon is coming to Texas for a visit, and Sophia requests that while he's here, Farrah marry him…and then somehow have him change his face so he looks like "Daddy Derek." (While this is certainly a disturbing comment, it's no surprise that Sophia thinks faces are interchangeable. After all, Farrah gets a new face every six months or so, so new faces are old hat to Sophia!)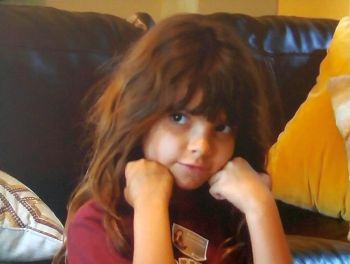 Farrah smiles at the thought of somehow reconstructing Simon's mug so he looks like her deceased ex.
Again…The Ashley can't make this crap up!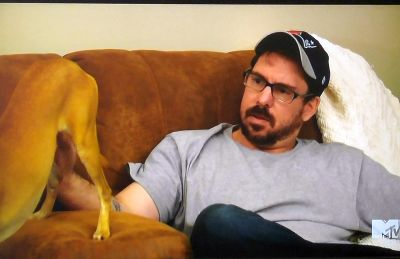 Next, we check in to see what Amber's up to. Leah is staying at Amber's house, and Amber's dog just gave birth to a litter of puppies. Matt seems comfortable with all of the baby puppies. Hey, let's just be happy that for once it wasn't him creating the litter!
There are puppies and people and poop everywhere. (So…it's basically like we're back in Amber's house circa Season 2.) As if things aren't hectic enough, it's almost time for Christmas, so Amber & Co. decide it's time to decorate the house for the holidays. Matt pulls out some sort of artificial holiday bush from a box and proclaims it to be the finest Christmas tree in all the land. (But…honestly, he would have said that about any tree that he didn't have to pay for.)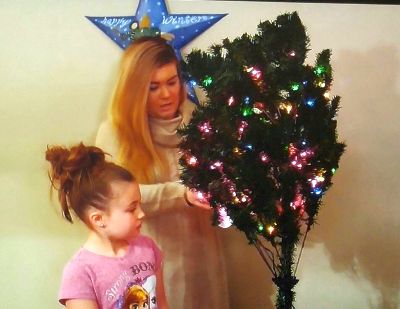 After the Seasonal Shrub has been assembled, Amber tells her mom that she's planning to ask Gary for permission to take Leah down to Florida for a vacation. Amber wants to go visit her beloved brother "Bubby," and she's hoping to also take Matt and her mom. (You know Matt's not going to miss out on a free vacation!)
Finally, we head to Michigan to get an update on Catelynn. She and Tyler are back from Hawaii, and are happy to be reunited with Nova and, of course, Butch. Tyler regales his dad of tales of the trip, and then Butch reveals that while Cate and Ty were honeymooning, he was spending time with his own honey. Yes kids, Butch has a girlfriend!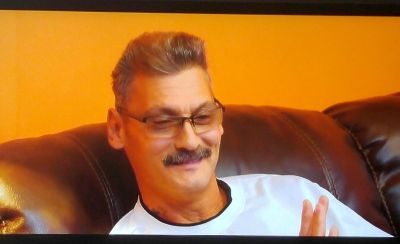 Butch tells Cate and Ty that he and his new beau "enjoyed each other's company…a lot."
We find out that Butch is itching to move into his own place. Later, Tyler's friend comes over and Tyler discusses how scary it is to think of Butch living on his own. It's only been 12 weeks since Butch was released from the clink, and Tyler thinks it's too early for Butch to move out.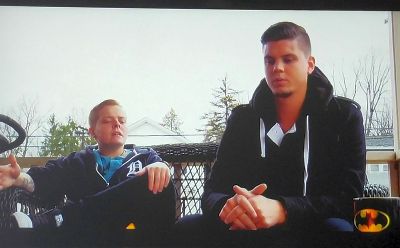 Tyler's friend (who seems to be doing her best to speak like Eminem, for some reason) reminds Tyler that he can't watch over Butch for the rest of his life.
You know what would be an easy solution to this problem? Giving Butch his own TV show. No one wants to watch Farrah talk about her vagina mold business anyway! Let's can this 'Teen Mom' crap, and give the time slot to a show featuring only Butch. Tyler can rest easy knowing that Butch is being watched via a camera crew, and we'll get oodles more Butch! It's a win-win!
Over in Tennessee, Maci's house basically looks a Tennessee trashpit There are piles of laundry and crap all over, and everything is covered in stuff. Maci has a lot going on, y'all! Not only does she have to take care of both kids all by herself, but she is also stuck mailing Taylor's T-shirts out to the leather pocket lovers of the world! It's exhausting!
Somewhere among the piles of crap, Taylor is relaxing and, of course, sipping beer, as he does in every scene. He seems oblivious to the fact that his house looks like the city dump.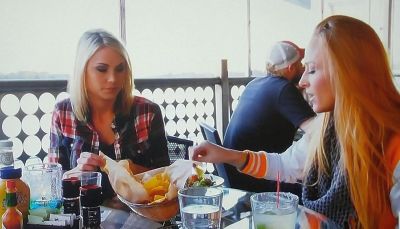 Later, Maci heads out for cocktails with her pal. (Anyone else find it hard to watch Maci chug drinks in every scene, considering we now know that she was with child when all of these episodes were filmed?)
Anyway, Maci tells her friend how overwhelmed and moody she is. She complains that Taylor isn't pitching in with all the kid-raising and T-shirt-shipping and it's pissing her off.
The next morning is Bentley's surgery. Maci goes in to wake him up, but Bentley refuses to get out of bed. (Hey– he is Ryan's kid, after all! That shouldn't come as a surprise!) Eventually, Maci shovels her son out of bed and they head to the hospital. Tragically, MTV's cameras were not allowed to film at the hospital where Bentley was getting his tonsils removed, so there is no footage of that. (It's kind of gross that MTV even tried to get footage of Bentley's surgery though, no?)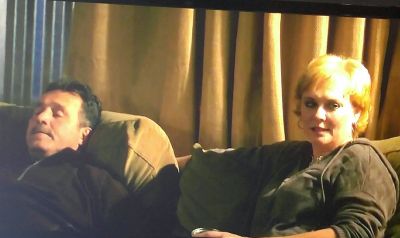 Later that day, Maci arrives home with a tonsil-less Bentley, who's feeling under the weather. Over at Ryan's parent's house, Ryan reveals that he didn't go to the hospital while his son was having surgery. However, Ryan does have a great excuse as to why he couldn't go: Maci never called him or texted him. Ryan's parents are obviously just embarrassed about the hump of laziness they've raised, and they call Ryan out for being a crappy parent to Bentley.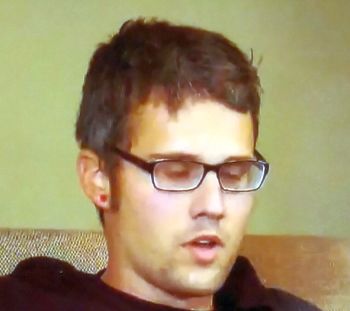 Ryan continues to blame Maci, and Ryan's parents bring up the fact that Maci is probably tired of trying to catch Ryan between naps and that Maci has given up trying to communicate with him.
The next day, Taylor is drinking and Maci is complaining (so…business as usual). She says she's overwhelmed and "finally" ready to ask for some help.
Wait now…finally?! Hasn't Maci been pawning her kids off on Ryan's mom all season? Why is she suddenly making a big deal out of asking for help?
Apparently, Maci is implying that she wants Taylor to help her. They decide to make a list of things they can eliminate from their lives. Taylor suggests that they hire someone to clean up after them or take care of their kids, but Maci isn't thrilled with that idea. Ever classy, Maci offers to give free blow jobs to anyone who's willing to wash her beer-soaked laundry.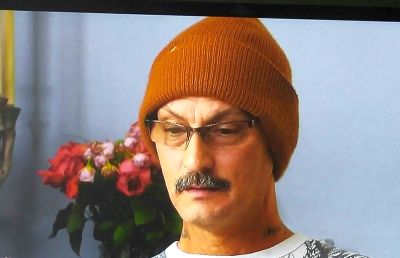 AS.YOU.DO.
Be careful what you wish for, Maci. Butch may show up at your door, box of Tide in hand, ready to take that job!
In Indiana, it's almost time for Amber to ask Gary about taking Leah to Florida. Gary arrives to pick Leah up, but Amber loses her nerve to ask him about the trip. Amber takes Matt and the producers out to dinner so she can discuss how she's planning to ask Gary.
The next day, Matt is busy putting Christmas lights on the house (using masking tape, natch). Keep in mind that this is the man who is planning to fix up houses to flip them. Jesus God (Leah).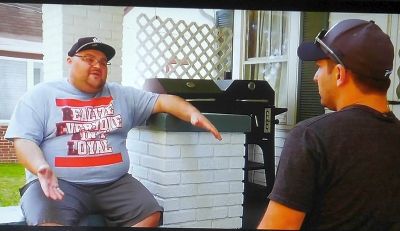 Over at Gary's place, some random producer dude is trying to get the scoop on how Gary feels about Matt. Gary explains that he doesn't dislike Matt, but he doesn't trust him. (He does this while wearing a T-shirt that says, "Realize Everyone Ain't Loyal." I see what ya did there, Mr. Shirley! Very subtle!)
Gary says that Matt is a proven liar, and he's worried that Matt will up and leave Amber and Leah, since, as we know, Matt has a history of peacing out when times get hard (or women get knocked up, whichever comes first). Gary states that he's sure that ol' Matt's not going to give up this free ride on the gravy train with Amber, though. He predicts that it will be Amber who kicks Matt out.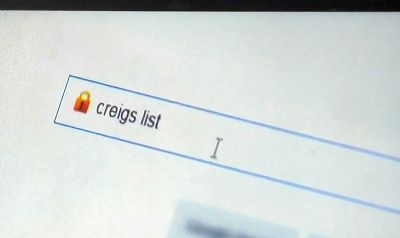 Meanwhile, Butch is doing his best to learn this new fangled "Internet thingy." He's looking for rental houses, so Tyler comes over to explain how the web of Internets works. Tyler tells his dad that there aren't a ton of landlords who are dying to rent to ex-felons who are just out of prison and have no money. Go figure.
"I've gotta try to live the American dream, man!" Butch protests after Tyler tells him that he's moving too fast.
While Tyler insists that he's not trying to discourage Butch from pulling himself up by his (prison) bootstraps, he does encourage his dad to take things slow and try therapy. Butch gets emotional when he realizes that Tyler still loves him, despite the fact that he treated him like crap for most of his life.
In Texas, Simon has arrived at Casa de Backdoor, and Farrah's actually excited for his visit. Sophia is also excited about having Simon there. She hands Simon a rose, along with instructions that he give the flower to Farrah. Sophia's obviously trying to play matchmaker, but it's a little awkward, since we know that Simon barely tolerates Farrah. (It's kind of like that episode of 'Full House' when Michelle tries to make her dad kiss her elderly preschool teacher but Danny's like, "Um…yeah, no, thanks. I don't want any part of this.")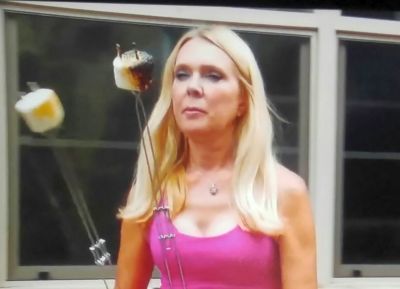 It's almost time for Debra to go back to her own house. She's clearly run out of clean clothes, which is the only explanation as to why she's wearing Sophia's tank top in this scene. Before she leaves, however, Debra wants to talk to Simon alone. Farrah is wearing a hat and giant sunglasses in the house, which can only mean that she's once again exchanged faces and is trying to heal inconspicuously.
Deb and Simon go out to the patio (much to Sophia's dismay) to chat. Simon says that he's happy that Farrah is moving to LA, which is closer to where he lives. Sophia jumps outside and demands Debra stay away from Farrah's boyfriend. (Hey- the woman steals clothes from her granddaughter, who's to say that she wouldn't steal her daughter's man?!)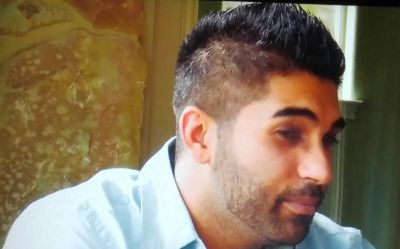 After Deb reassures Sophia that she's not trying to bone Simon, Deb brings up the purpose of her little chat. Debra explains that Simon is very similar to Farrah's dad Michael, so Deb is worried that he will have anger issues and passive-aggressive tendencies, just like Deb thinks Michael has. Simon is understandably shocked when Deb basically accuses him of domestically abusing Farrah.
Simon says that he's definitely not an abuser, unlike someone who was once arrested for physically abusing Farrah. IN.THE.(LIQUID)FACE, Debra!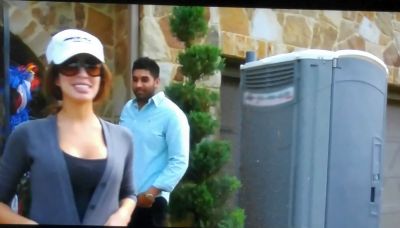 It's time for Debra to go home, and Sophia sends her grandma off by beating her with a giant stuffed sea creature. As Simon and Farrah go outside to see Deb off, MTV makes sure to give us yet another glimpse of the porta-potty that the 'Teen Mom' film crew is forced to use while filming at Farrah's house.
We go back to Indiana, where Amber is asking Gary to let her take Leah to Florida for Christmas. Matt hovers as Amber texts the Gar-ster, but Gary has yet to respond.
"I miss my family over Christmas," Matt tells Amber.
Um…you'll have to be more specific Matt. Which family are you referring to? You have about 100, after all!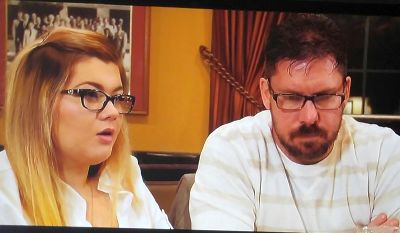 Amber tells Matt that she hopes that they'll get to a better place, trust-wise, with each other because, as Amber puts it, she has a "lot of trust issues."
Well, finding out that your fiance has a bunch of kids you didn't know about will do that to a person!
Matt proclaims that he and Amber have a near-perfect relationship. Oh Matt, that's the most amusing thing you've ever said!
Next week's episode is the two-hour season finale! Amber will get mad at Gary, Maci will get mad at Ryan, Catelynn will get mad at herself for being depressed and Farrah will get mad at the 'Teen Mom' producers…and basically, everyone.
To read The Ashley's recap of the previous episode of 'Teen Mom OG,' click here!
(Photos: MTV)