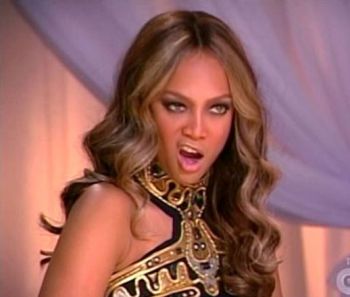 By Holly
Get ready to smize—VH1 is bringing back America's Next Top Model!
Back in October, The Ashley reported that The CW was (finally) pulling the plug on the long-in-the-tooth reality show after 22 seasons, but, apparently, you can't keep a good model down!
VH1 recently announced in a press release that it plans to pull 'ANTM' out of its very short retirement!
The show, which VH1 claims is the "most successful fashion show in TV history", will be reinvented by the network and the new episodes will be set in New York City. While Tyra Banks has committed to returning to the show as its executive producer, she will not be returning as host.
"After creating an incredible, global brand, I am beyond excited to have the show reborn," Tyra said in a statement. "I will continue as Executive Producer, but must turn my attention to new business endeavors, so I want to find a new host. I'm pumped to identify that person and bring back the show. Top Model fans, you demanded that the show come back, and VH1 answered the call. Get ready for a fierce-a-fied rebirth!"
Ken Mok will return as executive producer as well. All other roles have not yet been filled, according to the network.
"Details on the premiere date and a new, re-imagined cast of host and judges will be announced at a later time," VH1 stated in a press release.
Still, the network is pumped to have Tyra and the gang on their team.
"We're thrilled to bring 'America's Next Top Model' back to VH1 and partner with CBS Television Distribution and Tyra Banks to reinvent this franchise for a whole new generation," said Chris McCarthy, General Manager of VH1. "This is a homecoming for the series, as VH1 helped catapult the show to cultural icon status as the first cable network to air the show after it launched."
"We could not be more excited to bring back and breathe new life into one of the greatest unscripted franchises on television," said Scott Koondel of CBS. "VH1 is the perfect partner for this new endeavor and we hope this is the beginning of a long relationship."
Hopefully, VH1's new-and-improved 'Top Model' will get better ratings than the former version had been getting in its final years. The show's ratings steadily declined in its last five or so seasons. When the show was at its peak around 2004, it was averaging more than 5 million viewers an episode. In 2014, it garnered a meager average of 1.56 million viewers an episode.
No premiere date for the new season has been released yet.
(Photo: The CW)