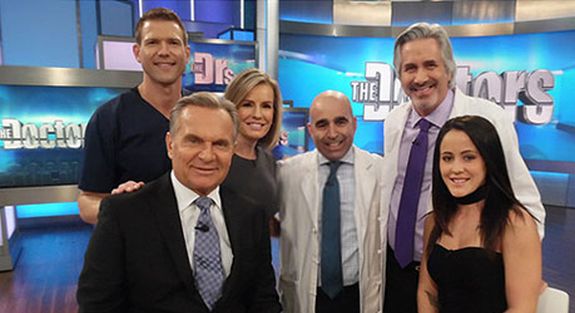 Teen Mom 2 star Jenelle Evans has stated that she's been suffering from a series of "mystery" ailments for the past few months. From hot flashes to joint pain to restless leg syndrome, Jenelle claims to be in constant pain, and has been partying her way across America in an attempt to find out what's causing her symptoms.
Naturally, she followed in the footsteps of her fellow 'Teen Mom' franchise costars Kail Lowry and Farrah Abraham and headed to The Doctors to see if show's medical experts could figure out what was going on with her.
"I started having night sweats, anxiety, hot flashes, pelvic pain, extreme back pain," Jenelle stated during her segment on 'The Doctors,' which aired today.
(These symptoms were hilariously reenacted by Jenelle during the intro clip, of course.)
"I've been going to doctor after doctor, specialist after specialist. I just want to know some answers and live a happy and healthy life," she added.
Jenelle was sent to Los Angeles-based endocrinologist Dr. Joseph Pinzone and OB-GYN Dr. Peter Weiss.
Anyway, here are five things we learned from Jenelle's segment on 'The Doctors' today…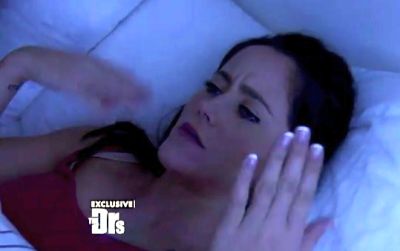 Jenelle was still getting "HIGH! HIGH!" as late as December 2015, despite claims that she was sober.
"I smoked marijuana for a long time," Jenelle told the endocrinologist. "Probably for years and years and years. Recently I stopped in about December. Then I noticed my symptoms coming on at the end of January."
Jenelle's admission to smoking pot until December directly conflicts with her claims of being drug-free, however. For instance, in July 2015, Jenelle talked to People about being sober.
"My life has changed so much since I stopped doing drugs – my whole attitude has changed," she told the magazine last summer. "I'm more active in my children's lives…Being there for them is more important to me than going partying or doing drugs."
Jenelle told the endocrinologist that she only stopped "smokin' the weed" because she is taking her mom, Barbara Evans, to court.
"The reason I stopped is because I'm taking my own mother to court to get custody of my son back — my six year old — so I stopped smoking completely," Jenelle said.
Despite posting about her health crisis on social media, Jenelle wanted to keep her medical problems "private."
Jenelle told the show's Doctors that she's having a hard time having her "health crisis" be so public. (However, to be fair, it was usually Jenelle herself who was telling people via social media that she was going to various doctors and making sure everyone knew about her health crisis.)
"I just feel like I need privacy at this time," Jenelle said. "That's why I didn't want to discuss with any outlets what was happening."
Jenelle stated that the anxiety that she has from dealing with her health crisis has made her consider quitting 'Teen Mom 2.'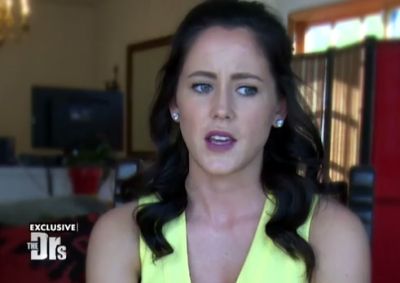 Jenelle doesn't actually take the diet pills she hawks on her social media accounts.
Jenelle told the endocrinologist that she took diet pills late last year, but stopped after she started getting her mysterious symptoms. However, Jenelle has continued to state on her Instagram account that she is taking certain weight loss pills, even calling one her weight loss "secret" in February.
Jenelle is planning to have another kid in the not-so-distant future.
Jenelle told OB-GYN Dr. Peter Weiss that she is currently on the birth control pill. However, Jenelle told the show's Dr. Ashton that while she doesn't want another baby right away, she may want a third child in "maybe a year or two from now."
"When I settle down and stuff then, yeah, maybe then, but not any time soon," Jenelle added.
The Doctors didn't offer much help…
Although the endocrinologist and OB-GYN that Jenelle saw both agreed that she needed to stop using the birth control pill she is currently on, Dr. Travis Stork suggested that Jenelle get counseling. The other experts agreed that Jenelle needed therapy because a lot of the ailments may be a result of her anxiety. They even gave her six month of free counseling to help her "clear her head."
One doctor suggested that some of the ailments may be a result of Jenelle's body jonesing for marijuana.
"Taking away the marijuana can certainly have some effects," he said.
Watch a clip of the episode below:

(Photos: CBS)